Genomics: A New Era of Medicine
You want to elevate your personalized practice with genomics. We can take you there.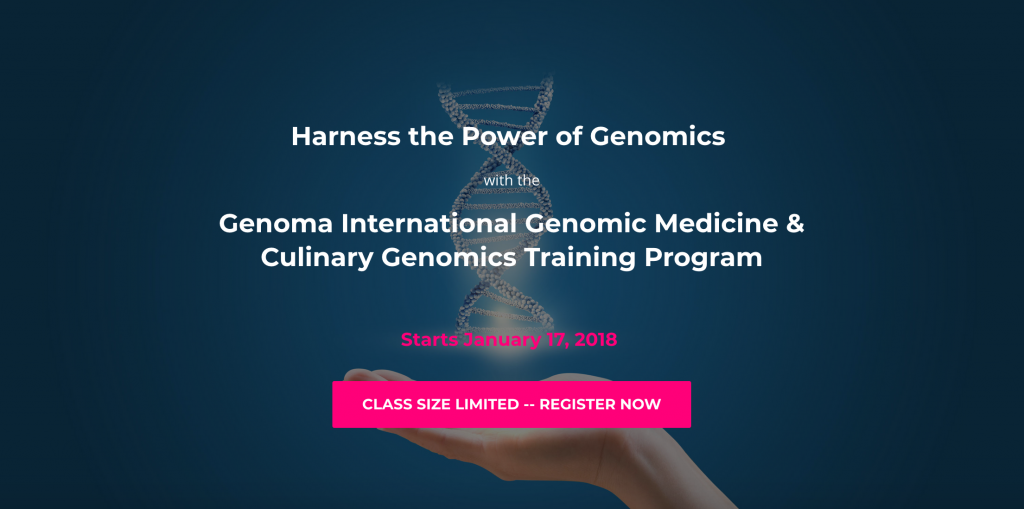 Transforming the way clinicians practice.
Genoma International's training program is designed to help you harness the power of our comprehensive genomic testing and profitably integrate genomic medicine and nutrition into your integrative medical practice.
This program is for clinicians who are invested in their professional growth and development, and are serious about diving in and embracing a comprehensive approach toward genomic medicine.
Gain an in-depth understanding of the science behind genomic medicine and nutrition, clinical applications, and effective intervention strategies including Culinary Genomics.
You'll learn how to use the GENESIS MatrixTM clinical model, which has been used successfully to integrate genomics into clinical practice for more than 15 years.
We also provide professional development and marketing resources to help you create a successful and sustainable genomic medicine or nutrition practice.
Learn More and Register Here. Space and Time are Limited for this Offer
The Genomic Medicine and Culinary Genomics Training Program is an 11-month online course that combines the scientific, clinical, and culinary aspects of genomic medicine and nutrition to ensure you have the fundamental knowledge and skills required to apply genomics into your practice. You'll grasp the nuances and the implications of genomic test results using our advanced, polygenic approach, addressing the conditions that underlie most health and disease processes.
Training Program:  $1800 (payment plan also available)
Includes:
80 hours of learning, with 80 CPEs for RDNs*
One Genoma International Ultimate Wellness genomic test for optimal experiential learning.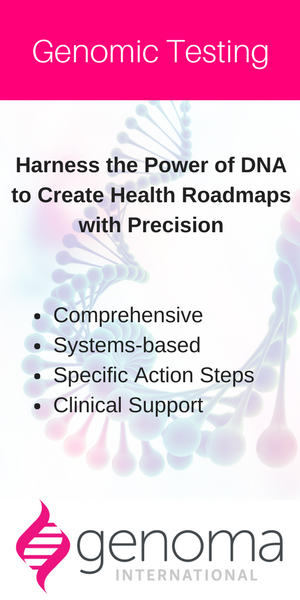 With a clinically focused approach, you will learn:
The history and science behind genomic testing.
The applied biochemistry, cell biology, physiology, and nutrition science of each system.
Which genes are related to these systems, and how they impact functioning and outcomes.
Effective nutritional genomic and lifestyle interventions.
Culinary genomic strategies.
How to integrate genomic testing into a comprehensive health model.
How to create a successful genomic medicine or nutrition practice.
Our instructors are clinicians with extensive backgrounds in nutrition science, genomics, the culinary arts, functional and integrative medicine, able to provide both scientific background and real-world applications.
---
GENOMIC MEDICINE &  CULINARY GENOMICS TRAINING PROGRAM
DEADLINE JANUARY 18th
DISCOUNT CODE TPDEC17
---
Learn More and Register Here. Space and Time are Limited for this Offer
---
For more on nutrigenomics, take a look at the following articles, case studies and peer reviewed science sponsored by Genoma International: 
.