Larry Weisenthal, M.D., Ph.D., announced today (July 22) new unpublished findings that may lead to a better understanding on the cause of atherosclerosis. Dr. Weisenthal, a physician and researcher, says he discovered a previously unknown biological mechanism that accounts for vascular calcification, or hardening of the arteries. Dr. Weisenthal has named the new mechanism MCED (pronounced EM-sed), or Massively Calcified Endosome Death. He feels that by addressing MCED, it should be possible to stop vascular calcification from occurring, even among individuals with high cholesterol.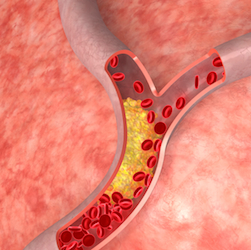 "Cholesterol levels probably won't matter," says Dr. Weisenthal, "at the end of the day the most important cause of arterial blockage may be the presence or absence of circulating MCED factors."
According to his report, Dr. Weisenthal discovered that, under some circumstances, artery-forming cells, called endothelial cells, die in a unique way that involves the release of highly calcified micro-particles. These escape from dying endothelial cells and trigger the body's normal immune response. This causes inflammation within the blood vessel and narrows the opening through which blood flows. He contends that MCED is the cause of arterial inflammation.
To gain access to this article and the rest of our extensive database of full-text articles, please register below or log in here.