"From an evolutionary and survival point of view, it is safer to avoid that which is poorly understood yet so powerful." Medicinal Mushrooms fall in this category, as some can save your life and others can kill you.   Paul Stamets, Dsc and Health Zwickey PhD writes in a recent commentary on medicinal mushrooms: "Similar to medicines that come from botanicals, many of the chemicals that fungi produce to flourish in the wild are also active in humans. This is likely not a coincidence." Stamets and Zwickey review the progress of the use of medicinal mushrooms in clinical practice and how this eclectic science is blooming.
By Paul Stamets, Dsc and Health Zwickey PhD, Integrative Medicine a Clinicians Journal, Vol. 13, No. 1
EXCERPT OF COMMENTARY
From mycelium, we are finding a whole new repertoire of active molecules that interface and potentiate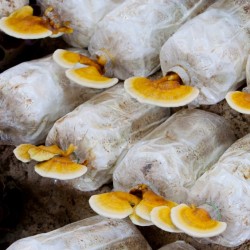 modern medicine in unexpected ways. As we have recognized the value of mushrooms, we have started to cultivate them to further exploit their medicinal purposes. Using solvents different than water is unveiling whole new sets of active constituents that were unavailable to our ancestors.
Modern science now recognizes that we are an ecosystem, that we live in an ecosystem, and we are born from an ecosystem. Mycelium is a foundation of nature's land based food webs. Understanding the role of mushrooms and their mycelia in ecosystems empowers their use in naturopathic medicine in ways that bolster conventional medical practices. We are now fully engaged in a rapidly emerging scientific revolution in medicinal mushrooms. Our ancestors would be proud.
[button link="https://todayspractitioner.com/wp-content/uploads/2014/04/medmushroom1.pdf" window="yes"]DOWNLOAD FULL TEXT ARTICLE [/button]