Stevia rebaudiana (SR), a popular calorie-free sweetener, may possess more health properties than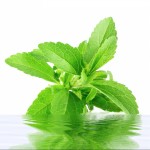 originally thought, namely reducing the factors associated with metabolic syndrome. According to a new study, "Stevia rebaudiana Bertoni: A Natural Alternative for Treating Diseases Associated with Metabolic Syndrome," published in the Journal of Medicinal Food, both in vitro and in vivo studies indicate that glycosides and the extracts from stevia may have pharmacological and therapeutic properties for health issues connected to metabolic syndrome, such as obesity, hypertension, and elevated levels of blood sugar and lipids.
Stevia Rebaudiana History
The study coauthors Areli Carrera-Lanestosa and Maira Segura-Campos, Autonomous University of Yucatan and Yolanda Moguel-Ordóñez, National Institute for Forest, Agronomic, and Livestock Research, Yucatan, Mexico, reviewed the antiobesity, antihyperglycemic, antihypertensive, and antihyperlipidemic effects reported for SR. The plant is native to the Amambay Mountains, between southern Brazil and northern Paraguay, and is a commonly used sweetener and medicinal plant for the Guaraní Indians. Native populations have consumed ka'a he'ё (translated as sweet herb) for centuries. From a research and health perspective, SR contains a complex mixture of functional compounds that serve as more than just a sweetener, including terpenes, tannins, sterols, volatile acids, vitamins, carotenes, flavonoids, enzymes, organic acids, polysaccharides and hormones.
Stevia Rebaudiana and Metabolic Syndrome
The prevalence of metabolic syndrome varies between 15% and 40% of the total world population, depending on gender, age, and ethnicity. Metabolic syndrome is present in 22–34% of the U.S. population; whereas in Mexico, this percentage increased from 28% to 40% between 1994 and 2000 and was about 42% from 2006 to 2012, being more often in women than men according to the National Health and Nutrition Survey (NHNS)."
Study Findings
At present, physicians rely on several drugs to treat specific disruptions associated with metabolic syndrome, such as antidiabetics, lipid lowering agents, ACE inhibitors, angiotension II receptor blockers and antiplatelet blockers. This study notes that long term use of many of these medications may present undesired effects such as lactic acidosis, metallic taste, and vitamin B12 deficiency and many others. They see SR as a potential therapeutic alternative with none of these side effects.
The food and sweetener industry has focused on two primary compounds in stevia, stevioside and rebaudioside.  Stevioside and rebaudioside A (the sweetest compound) represent 5–10% and 2–4% w/w (dry basis) of the leaves. Rebaudioside A is a substitute for saccharose, however it is the stevioside that has the most potential applications for potential therapies related to diabetes mellitus, obesity and decreased arterial pressure.
In the study, the authors emphasize SR contains hundreds of bioactive phytochemicals with antioxidant and medicinal properties.  Stevia rebaudiana contains a complex mixture of nutrients and bioactive compounds, including diterpenes, labdabos, triterpenes, stigmasterol, tannins, ascorbic acid, alkaloids, steroids, saponins, flavonoids, β-carotene, chromium, cobalt, magnesium, iron, potassium, phosphorus, riboflavin, thiamine, tin, zinc, apigenin, austroinilina, avicularin, β-sitosterol, caffeic acid, campesterol, caryophyllene, centaureidin, chlorogenic acid, chlorophyll, kaempferol, luteolin, and quercetin. There are also a number of minority glycosides such as rebaudiosides B, rebaudiosides C, rebaudiosides D, rebaudiosides E, rebaudiosides F, dulcoside A, rubusoside, and steviolbioside.
As mentioned, it is the steviosides that hold the keys for driving out metabolic syndrome. Among many, they include increases in glucose tolerance, reductions in concentrations of plasmatic and postprandial glucoses, as well as reductions in abdominal obesity, body weight, biliary acids, and serum cholesterol.
Here are three summary charts that outline significant animal and human-model outcomes:
1. Table 4 Antihyperlipidemic and Insulinotropic Effects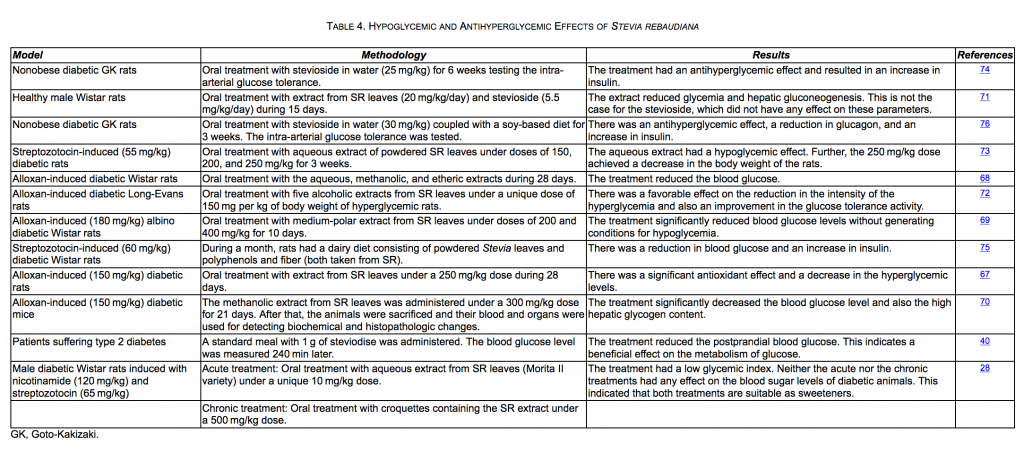 2. Table 5 Arterial Pressure 

3. Table 6 Cholesterol, Triglycerides, and Low-density Lipoproteins

Conclusion on Stevia Rebaudiana and Metabolic Syndrome
In summary, the study authors concluded:
Studies on SR demonstrate that, besides being suitable as a sweetener, the aqueous and alcoholic extracts of this plant, as well as its steviol, are also a pharmacological alternative. In other words, these compounds have the required therapeutic potential for naturally treating endocrine diseases (such as obesity, diabetes, hypertension, and dyslipidemia) that are relevant in the current context. These diseases are associated with metabolic syndrome, which is considered a public health problem due to its current prevalence. Besides steviol glycosides, SR contains several phytochemicals, including phenols and flavonoids. More research is needed to determine their effects on the already known SR-based treatments, as well as their diverse mechanisms of action."
Click here for the entire study, "Stevia rebaudiana Bertoni: A Natural Alternative for Treating Diseases Associated with Metabolic Syndrome," Journal of Medicinal Food,
Source: Carrera-Lanestosa Areli, Moguel-Ordóñez Yolanda, and Segura-Campos Maira. Journal of Medicinal Food. August 2017, ahead of print. https://doi.org/10.1089/jmf.2016.0171