On the latest live episode of Doctor Radio Reports: Coronavirus – What You Need To Know Now, host of the show and Medical Director of SiriusXM's Doctor Radio, Dr. Marc Siegel was joined by Dr. Jerome Michael Adams, 20th Surgeon General of the United States, American anesthesiologist and a Vice Admiral in the U.S. Public Health Service Commissioned Corps. In this interview, Surgeon General, Jerome Adams, MD discusses COVID-19 Home Testing Kits.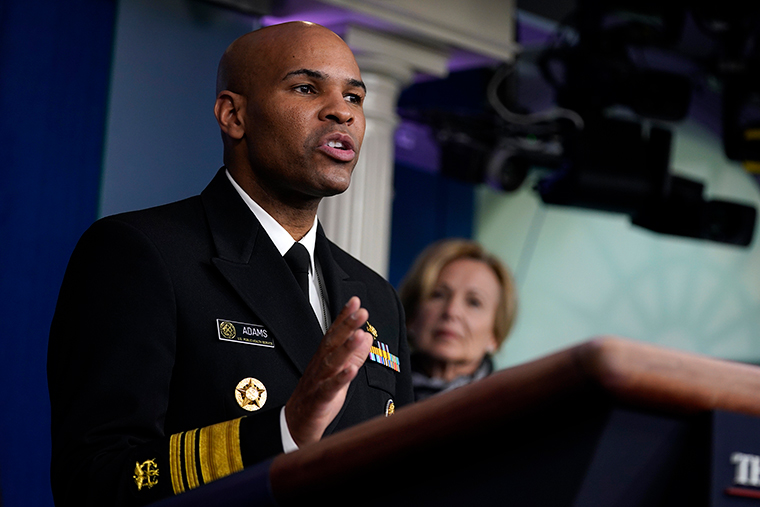 US Surgeon General Dr. Jerome Michael Adams told Dr. Siegel and listeners "I'm very hopeful" about the possibility of seeing self-administered Coronavirus tests "and I feel like that could be a game changer."
During the live interview, Surgeon General Adams was asked when we can realistically return to work and he explained that it really depends on the people of the communities: "Do everything in your communities to be more like communities in South Korea and China and not like Italy."
He shared that "preparedness doesn't mean panic," and stressed how important the message of social distancing is across every generation and explained why he went to celebrity influencer Kylie Jenner to help share the seriousness of the virus with her followers and fans. "She told millennials and Generation Z people to stay at home..because they don't listen to me..my kids could care less that I'm the Surgeon General, but if Kylie Jenner tells them to do something they're more likely to do it."
Host, Dr. Marc Siegel addressed something Dr. Jerome Adams mentioned which he really believed to be true and that is that technology during COVID-19 can really play a helpful role is getting through this nightmare, and what has been isolating us, can now bring us together.
The show also included other medical experts in the fields of Critical Care Medicine, Pulmonary Disease, Gastroenterology & Hepatology including Dr. Mark Pochapin, Co-host of "Medical Grand Rounds" and "Chief's Rounds" shows on SiriusXM's "Doctor Radio, Vice Chair for Clinical Affairs and Professor of Gastroenterology, Department of Medicine, and Director, Division of Gastroenterology & Hepatology at NYU Langone Health and Dr. David Kaufman, Director of the Medical Intensive Care Unit at NYU Langone Health, Board Certified in Critical Care Medicine and Pulmonary Disease.
Audio clips are below from SiriusXM Doctor Radio and NYU Langone Health.
Surgeon General, Dr. Jerome Michael Adams, Talks About How Leadership Can Address Coronavirus Fears
Surgeon General, Dr. Jerome Michael Adams, Explains Why Kylie Jenner Helped Reach Young Americans
Surgeon General, Dr. Jerome Michael Adams, Offers Info About When Americans Will Get Back To Work
Surgeon General, Dr. Jerome Michael Adams, Talks About Self-Administered Coronavirus Tests
The Benefits Of Technology During The Coronavirus Fight