For older adults isolated in the age of COVID, access to mental health clinicians can make all the difference when familiar connections are lost. Video-based counseling services are the solution for the tens of thousands of nursing home residents across the U.S. now restricted to their rooms.
For a lucky few though, voice-assisted technology has eased connection to psychologists, psychiatrists, and counselors. One provider of such technology — the New York City based startup Soundmind — has been facilitating video-based telepsychology sessions using its simple plug-and-play platform delivered through Amazon's Alexa and Echo Show.
Through this connection, Soundmind's solution has allowed clinicians like psychologist Tina Chan to reach nursing home patients in hard-hit COVID areas like Westchester County, New York.
"My colleagues and I were concerned that our physical presence during this time made us potential vectors of infection. The care we provide to residents does not depend on physical touch like nurses and aides. We knew we could continue to provide psychological services from a distance as long as the right tools were available to us."
"We were scrambling trying to find a reliable solution especially for our COVID patients where, even though we appear on screen, we may be the only people they see who are not wearing a mask. I'm so glad that a system like Soundmind was available. Now, all my patients need to do to initiate a session with me is to use their voice."
"When we heard psychologists were using our system for therapy sessions in Westchester we were thrilled," said Erum Khan, Soundmind's CEO. "Our platform and Alexa experience were designed to be adopted quickly and used in a very simple way. Clinicians can easily connect with the Echo Show device synced to Soundmind in the patient's room and a trusted connection can be made privately and securely."
In addition to its simplicity, one benefit of using voice-enabled platforms like Soundmind is privacy. Seniors know that a Soundmind-enabled session is trusted because only individuals that are approved by the senior can be part of the Soundmind care circle.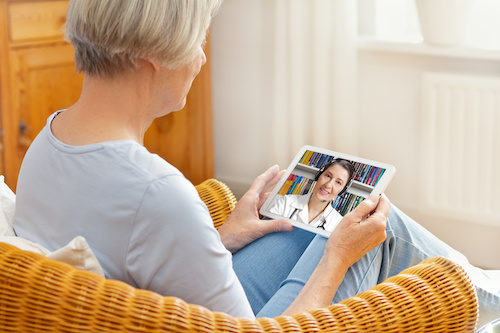 In March of this year, The Centers for Medicare and Medicaid Services (CMS) waived many of the provisions that restricted the use of telehealth by clinicians in order to keep medical services active under stay at home orders. Under these changes, patients do not need to live in rural or underserved areas to be treated via telehealth, and it can be conducted in the patient's home versus a clinical site of care. Clinicians may also be reimbursed by Medicare for telehealth visits if it is conducted on video-based platforms such as Skype, FaceTime, and Alexa Echo Show.
Telehealth is especially relevant for supporting the health of seniors in residential living where opportunities for social connection – such as meals – have been reduced or eliminated. According to a February 2020 report released by the National Academy of Sciences "lacking social connection— and in particular, scoring high on measures of social isolation—is associated with a significantly increased risk for early death from all causes."
And it's not just professional clinical contact that can have a positive impact. A 2019 study published by The American Journal of Geriatric Psychiatry reported that older adults that used video chat had about half the likelihood of depressive symptoms at a two-year follow-up compared to non-users and users of e-mail, social media and instant messaging.
However, even with telehealth's new permissions, many seniors in residential living lack access to video-based technology. For those that do, help may not be at hand if telemedicine sessions are difficult to start or manage, or if connectivity fails. Recognizing this, CMS announced at the end of April 2020 that telepsychology sessions that are conducted using telephone or voice-assisted devices could be reimbursed as a temporary measure for the COVID-19 pandemic.    
"This is a huge win for those with physical disabilities who only can communicate using these devices, or for those who may not have a video-based device," said Dr. Chan. "So many more people can now be supported."
"The change really excites us because we know that many residents in need are only using Soundmind's platform through Alexa devices that do not have video." Added Ms. Khan "We look forward to continuing to support the work of mental health professionals that need to make these new types of connections with their patients during this crisis."
---
About Soundmind: Soundmind enables senior care providers and families to easily and securely leverage voice assistants like Alexa to deliver smarter care. Now simply by speaking, older adults and staff alike have instant access to concierge services, communications, and content to improve quality of life. For more information visit http://www.soundmindinc.com