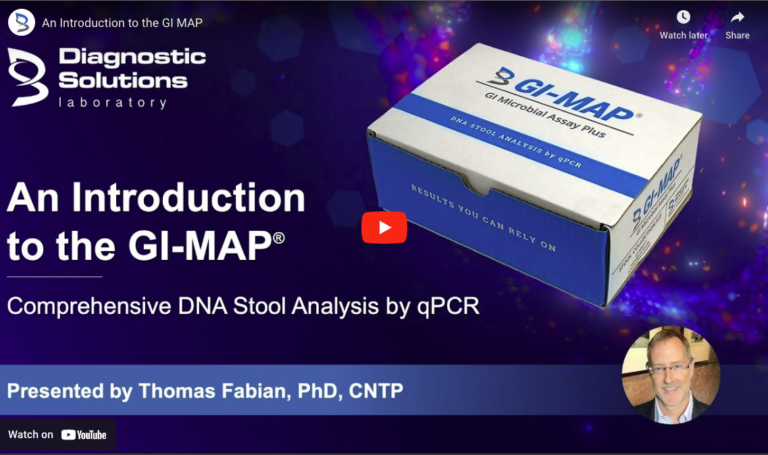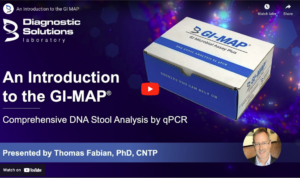 Diagnostic Solutions Laboratory is pleased to partner with you to bring true ADVANCES in microbial testing. Our commitment to laboratory medicine is to utilize proven methodologies that are accurate and reliable.
The GI-MAP stool test utilizes cutting edge, Quantitative PCR technology to provide a true DNA/PCR based stool test. This technology has high sensitivity, specificity and a rapid turnaround.
The GI Pathogens section includes Bacteria Pathogens, Parasitic Pathogens and Viral Pathogens.
Continuing with this platform, the GI-MAP measures:
H. pylori & Virulence Factors
Commensal/Keystone Bacteria
Opportunistic/Overgrowth Microbes
Fungi/Yeast
Viruses
Parasites
H. pylori
And, the Plus refers to immunologic markers for GI health and function including SIgA, Elastase, Calprotectin, Eosinophil Activation Protein, and Anti-gliadin testing. Zonulin is also available as an add-on.
Tom Fabian, Ph.D., CNTP
Tom is a leading expert on the role of the human microbiome in health, chronic disease, and aging. As a translational scientist, his primary focus is on the clinical application of research in the areas of the microbiome and mucosal immunology in the functional and integrative medicine space. He has worked with early-stage biotechnology companies as a research scientist, and more recently, as a consultant for microbiome and clinical testing companies, including Diagnostic Solutions Laboratory. He also serves as a scientific advisor for nutraceutical company Designs for Health. In addition, Tom provides consulting and educational services for functional medicine and integrative health practitioners. His doctoral training at the University of Colorado, Boulder, and postdoctoral training at the University of Utah were focused on the molecular biology of aging and longevity. He is also certified as a Nutrition Therapy Practitioner by the Nutrition Therapy Institute in Denver.