The evolution of the American Congress of Rehabilitation Medicine (ACRM) began in the 1930s with a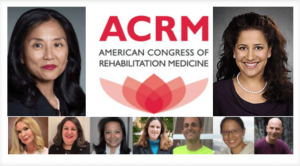 founding focus on a single emerging modality and now boasts a position as the largest multidisciplinary-centered rehabilitation organization in the country. ACRM was first a medical academy for x-ray therapy, broadened to more physical therapies, then focused in on physical medicine, and finally extended outward again to address both physical and psychological issues. Core disciplines are medicine, physical therapy, occupational therapy, and psychology. The door is not shut. Anyone can join.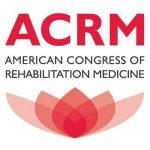 Now a subset of the heterogeneous organization's membership is casting a broader net. Two years ago, they created the ARCM Complementary and Integrative Medicine Rehabilitation Networking Group. Under the leadership of chair Sonya Kim, PhD, CRC, BCB, multiple programs in their first, 2017 conference track were developed by Networking Group members and avidly attended. Former NIH NCCIH director Josephine Briggs, MD provided a plenary to introduce the topic to the conference's 3,000 plus attendees. A 2019 track is in development.
As one learns about the organization's functional values, the question that arises is: Why did forming a complementary and integrative section take so long?
Psychiatrist Rick Leskowitz, MD, editor in 2003 of the first book on complementary and alternative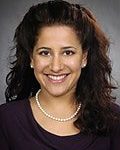 approaches in rehabilitative medicine and co-director for integrative medicine at the Harvard-affiliated Spaulding Rehabilitation Hospital, recently put me in touch with his Spaulding colleague and integrative medicine co-director, Ariana Vora, MD. Vora is a physiatrist in the Department of Physical Medicine & Rehabilitation at Harvard Medical School/Spaulding. She co-chairs of the ACRM's Complementary-Integrative Medicine Networking Group and also co-chairs the ACRM Cancer Rehabilitation Networking Group's Integrative Medicine Task Force.
"The model for rehabilitative medicine is bigger than the medical model," Vora explained. She traced the growth and philosophy of rehab medicine back to the development of penicillin. The ability of people to survive war injuries and other major physical trauma created a new set of medical issues. People who previously would have died from infections were living. Soldiers returned from WWII with limb amputations, spinal cord injuries, and other physical and psychological injuries. Then the polio epidemic began. The physician credited as the field's founder, Howard Rusk, MD, took a lead in responding to these needs, inventing hard and applying soft therapeutics. The focus on functional outcomes was primary. Vora noted that, for example, Rusk famously broke with standards of the day by recommending exercise instead of bed rest for people with acquired limb deficiencies.
The rehabilitation field is aligned in this principle with sports medicine and palliative care – and functional medicine itself – in elevating these practical endpoints. "This is a quality of life centered specialty," said Vora. "We measure things like self-reported quality of life, return to work, return to play, functional independence, and social support."
To assist researchers in the field to reflect the whole system for rehabilitation care in the methods they choose, ACRM routinely offers methods trainings to target functional outcomes. Last year at the conference, the Networking Group's track took this thinking a step further. In their programming, they "tried to convey the message that knowledge of life is knowledge of life," said Vora. "To research it well you must look at it from the system of practice and use protocols that reflect how it is practiced in context. Effects will be blunted if you don't look at the whole."

The Networking Group presently has 226 members with interest much higher. The group's 2017 sessions were well-attended. In addition to Kim and Vora, the interprofessional executive committee includes research scientist Patricia Heyn, PhD, physiatrist and acupuncturist Nicole Sasson, MD, occupational therapist and researcher Marianne Mortera, PhD, OTR/L, a massage therapist and researcher Jacqueline Tibbett, PhD, LMT, peer counselor Allan Tyson, MA, physical therapists and acupuncturist Sophia Chan, DPT, LAc, and psychologist Philip Appell, PhD. The Networking group is presently preparing to submit a new set of vision and mission statements for adoption. They aim to provide a leadership platform for facilitating cutting-edge complementary and integrative rehabilitation medicine (CIRM) research, practice and education to improve the wellbeing and quality of life of individuals whom the rehabilitation field serves.
Personally, Vora maintains a strong interest in Ayurvedic medicine. She learned from vaidyas in India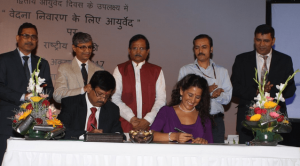 before starting medical school and is a graduate of the University of Pune's Ayurvedic Clinical Assessment Program. Vora is working with the Indian Ministry of AYUSH headed by Shripad Naik that is seeking to foster greater use and respect inside India and abroad for that nation's multiple natural healing traditions. She is pictured in the photo with Naik and AYUSH Ayurveda Advisor Dr. Manoj Nesari signing a Letter of Intent for collaboration in Integrative Medicine between the Department of PM&R at Spaulding/Harvard and the AYUSH-run All-India Institute. Vora shares that "Indian Prime Minister Narendra Modi praised this collaboration in a nationally televised speech calling for development of integrative health best practices for the health of all."
The ACRM's Complementary and Integrative Medicine Networking Group is notably global in concept. The present mission is to "build and sustain an international, trans-professional collaboration related to science, clinical practice, education, policy, and advocacy with the goal of positively influencing health, function and quality of life for individuals with cognitive and physical impairments and disabilities." The reach is also reflected in inclusivity. The ACRM site invites participation: "Nonmembers are welcome and encouraged to participate in any ACRM networking group or new group, like the [Networking Group], free of charge on an introductory basis for up to two years."
While the delay in formation of the Networking Group is a mystery -given the range of values alignments with the functional focus of integrative health and medicine – what will be most intriguing is the rate of spread and uptake of the work of this committed, interprofessional set of leaders.
---
John Weeks is a writer, speaker, chronicler and organizer whose work in the movement for integrative health and medicine began in 1983. He is publisher-editor of The Integrator Blog News & Reports, which since 1995 – in various prior forms – has created primary connective terrain for the diverse stakeholders and professions in the field. He is a new contributor to Today's Practitioner, contributes regular column for Integrative Medicine: A Clinician's Journal, JACM – Paradigm, Practice and Policy Advancing Integrative Health, the Academy of Integrative Health and Medicine, and has written for Integrative Practitioner, the Huffington Post, The Altarum Institute, Health Forum Journal, Medical Economics, and elsewhere.
In May 2016,  he accepted an invitation to serve as the editor-in-chief of the Journal of Alternative and Complementary Medicine. Since mid-2015, John has re-focused his work on presenting, teaching and mentoring. He has keynoted, led plenary sessions, breakouts and offered guest lectures for dozens of organizations. These range from the Association of American Medical Colleges and Harvard University to Bastyr University and American College of Traditional Chinese Medicine; the UCLA School of Medicine to the Institute for Health and Productivity Management and Palmer College of Chiropractic; from the International Congress for Research on Integrative Medicine and Health to the American Hospital Association and the Midwives Alliance of North America. He has consulted with insurers, employers, professional organizations, universities, and government agencies at all levels.
As an organizer, Weeks convened the Integrative Medicine Industry Leadership Summits (2000-2002), directed the National Education Dialogue to Advance Integrated Care (2004-2006), fund-raised the start-up and was on the founding steering committee of the Integrated Healthcare Policy Consortium (2002-). He co-founded the Academic Collaborative for Integrative Health, which he directed 2007-2015, and was on the founding board of the Academy of Integrative Health and Medicine.
In 2014, three consortia and others combined to grant him a
Lifetime Achievement Living Tribute Award
.
Four academic institutions have granted Weeks honorary doctorates for his work. Seattle-based, he considers himself a particularly lucky soul to have worked remotely while living with his spouse Jeana Kimball, ND, MPH, and their children in Costa Rica, Nicaragua and Puerto Rico for 6 of the last 15 years. For more with John Weeks, follow his Integrator Blog.