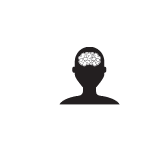 The science is growing showing that meta-inflammation and dysbiosis may be linked to dysfunction of the gut-brain axis and thus affect mental health. It all comes down to stress and the microbiome.
In this video presentation, from our partners at Holistic Primary Care, integrative psychiatrist, David Scheiderer, MD, reviews the science showing how medications, lifestyle and diet impact the gut-brain axis. He explains how gastrointestinal health, systemic inflammation and neuroinflammation are connected to and common psychiatric conditions.
He offers clinical suggestions for assessing intestinal permeability and small intestinal overgrowth when examining patients for mental health issues. Dr. Scheiderer also discusses individualized treatment plans for specific nutrients and probiotics, as well as diet and lifestyle for cognitive and psychiatric health.
David Scheiderer MD on Stress and the Microbiome
David Scheiderer MD, MBA, DFAPA specializes in Psycho-Neuro-Immunology (PNI), the primary theory of which is that life and its attendant stressors, combined with unique genetic endowments and early life experiences, cause progressive imbalances among neurotransmitters, hormones, growth factors, metabolic parameters, and immunity. Dr. Scheiderer attended medical school at Ohio State University, completed his Behavioral Medicine and Psychiatry residency at University of Virginia, and is certified by the American Board of Psychiatry and Neurology. He presently serves as the Chief Medical Officer and Director of Education at Integrative Psychiatry, a psychiatric and functional medicine practice in Sarasota, FL, and is also the President of Tiberius Enterprises, Inc. in Roanoke, VA.