At Rupa, we are on a mission to bring root cause medicine to every person on the planet. 🌎
The world has shifted dramatically since we started Rupa with this ambitious mission just a few years ago. Today, it's no secret anymore – medicine of the future will be personalized, data driven, and holistic, what we at Rupa call root cause medicine.
Root cause medicine is the next evolution of medicine, one where we aim to identify and solve the true, underlying cause of illness rather than just band-aiding symptoms with medication. The old model of "a pill for every ill" just simply isn't working.
Root cause medicine addresses why you're feeling sick, rather than simply treating symptoms. 
In the United States, 1 in 2 people (literally every other person) is suffering from an unresolved chronic illness, costing our society over $1T annually. The average American gets 12 prescriptions per year, yet we are sicker than ever. Globally, the numbers are even greater.
People are desperate for alternatives and voting with their time and dollars.
The result is inevitable – we're entering a new era of medicine.
People want lasting solutions, not pills.
Data is front and center (advanced lab testing, sleep tracking, etc.).
People are demanding whole person care (mental health, nutrition, etc.).
Enter Root Cause Medicine. Rather than bluntly treating symptoms with drugs, the next evolution of medicine will identify the root cause of people's health issues and solve them with personalized treatments. This starts with utilizing data to consider the person as a whole — from genetics to nutrition to advanced lab testing and more.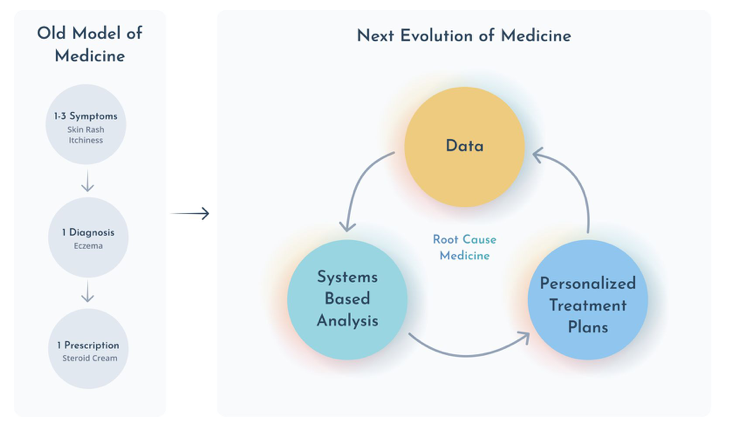 Today, root cause medicine goes by many names: functional medicine, precision medicine, personalized medicine, systems medicine, integrative medicine, and more. Root cause practitioners look at a person's health holistically and employ advanced diagnostics to understand everything from genetics to diet, stress and cortisol levels to microbiome, and more.
At Rupa, we're building the infrastructure to power this next evolution of medicine.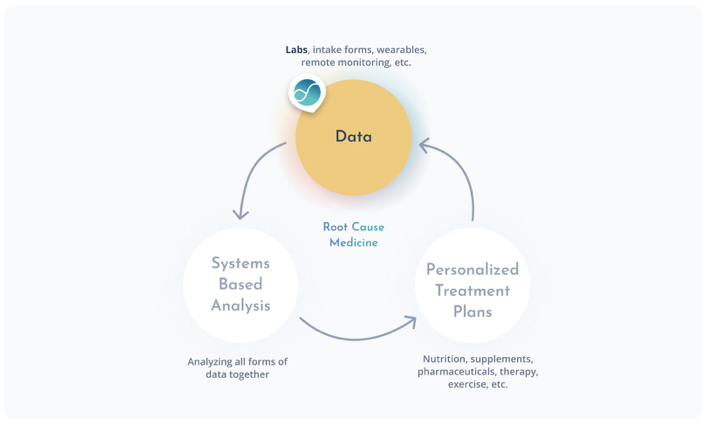 Our first product solves the most difficult part about practicing root cause medicine today: labwork. Traditional bloodwork — the complete blood counts (CBCs) and metabolic panels (CMPs) we're used to — are not the full picture. To get to the root cause, practitioners now rely on cutting edge tools like advanced DNA tests, microbiome tests, comprehensive hormone panels, heavy metals testing, and nutrient profiles. However, many of these tests are developed by independent companies and difficult to discover, access, and order.
Rupa solves this by offering a single sign on where practitioners can order, track, and receive results from many of these labs in one place, turning 15 hours of weekly physician admin work into 15 minutes. Any licensed healthcare practitioner in the USA can sign up and start ordering tests through Rupa in under five minutes. Patients also receive a modern experience, with transparent pricing, SMS orders, and helpful digital instructions.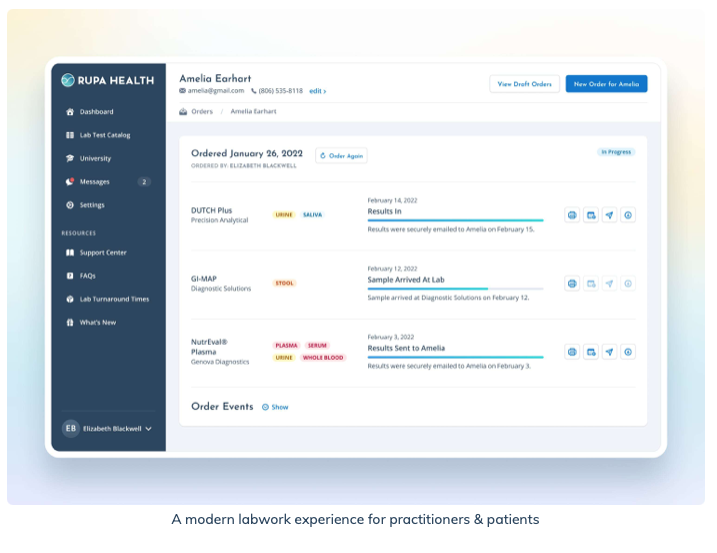 In the last couple years, the Rupa platform has grown from supporting just a handful of practitioners in the Bay Area to serving thousands of providers, hospitals, and modern medical clinics in all 50 states across the USA. Our platform has expanded to over 3000 specialty lab tests from over 25 different laboratories – all accessible through a single sign on. Practitioners who utilize Rupa also have access to mobile phlebotomy in all 50 states.
I'm proud to say that in just the last year, Rupa has quickly become the largest digital platform of its kind, supporting tens of thousands of patients and quadrupling the entire business in 2021 alone. 🤩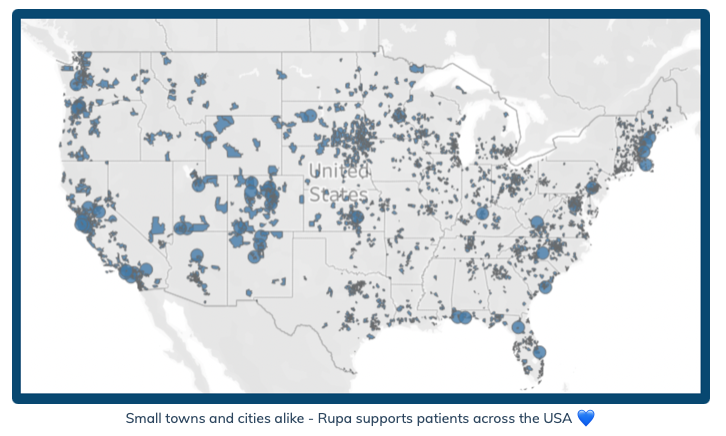 What's even more exciting than our own growth at Rupa, is the acceleration and momentum of the root cause medicine industry as a whole in the last few years.
Major medical journals like JAMA are publishing research on the benefits of root cause medicine, and major hospital groups like the Cleveland Clinic, the University of California System, and the Mayo Clinic have added root cause departments. Globally, the market for personalized care is expected to reach $5.7T (that's TRILLION!) in the next 8 years. 🤯
Additionally, thousands of new specialty diagnostics have flooded the market with both new tests (DNA, microbiome, hormonal, etc.) and new sampling methodologies (saliva, stool, breath, urine, etc.). Google searches for root cause medicine related terms are breakout searches with a 5000% increase over the last five years. The evidence pointing towards a future with root cause medicine at the helm goes on and on. And yet, this is still the infancy of what will be a foundational shift in the way we practice medicine.
At Rupa, we are thrilled to be at the forefront of this exploding root cause medicine movement.
‍
Today we're excited to announce that we've raised $20M from Bessemer Venture Partners, First Round Capital, Lachy Groom, SV Angel and other phenomenal partners to grow the company and continue to move healthcare in this direction.

Rupa wouldn't be here without the support of all of our incredible investors, advisors, and early believers. 🙏 To our practitioners who still take the time to personally text message me feedback and words of encouragement — thank you so much for believing in us! 😍 You are true trailblazers, and we feel so lucky to be a small part of the massive difference you're making in this world.
To the patients we work with day in and day out – thank you for sending us messages like these that energize us and remind us of the mission we're on:
"After 2 years of feeling extremely sick, 7 doctors, and no answers, I finally found a root cause practitioner. They ordered me tests through Rupa and in a month and half I was feeling better than I had in 2 years. The test results were life changing. No doctor took me seriously or ordered me these tests before."

– D. Nguyen, Scarborough, ME
"I finally have hope after testing through Rupa! This test has validated my GI issues, and I now have proof that there really is something going on with how I process food and the reasons for my GI discomfort. No doctor was willing to listen to me before!"

– K. Wilkinson, Mebane, NC
At Rupa, we believe no one should have to spend years navigating 20+ doctors  like I did before getting to the root cause of their illness. This investment is a way for us to continue to serve on our belief in the importance of getting to the root cause of illness. We wake up every day thrilled to be accelerating this shift.
We've had an amazing journey so far, and this is (still) just the beginning. Onwards! 🚀
Love,
Tara
CEO & Co-Founder
Rupa Health
P.S. Passionate about root cause medicine and truly having an impact on our chronic illness epidemic? Check out open roles or reach out to us: [email protected]!