"What if medical schools and schools of public health partnered with culinary and behavioral change experts to create new curricula for both health care providers and chefs? Might this novel strategy ultimately benefit both patients and the general public?" — David Eisenberg, MD at HealthyKitchens HealthyLives conference, March 14, 2014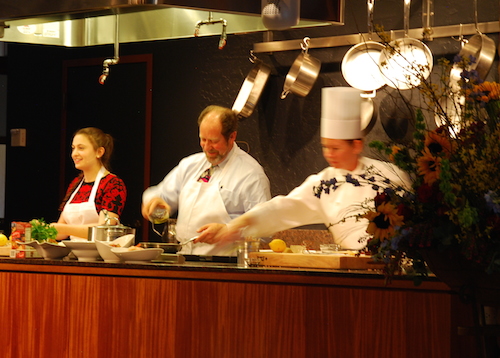 This was the opening statement at the recent HealthyKitchens HealthyLives conference at the Culinary Institute of America (CIA) in St. Helena. Is Eisenberg an idealist or realist? Had I not seen it myself, I might have used the "i" word, with a capital I.  As with any disruptive innovation, idealism is one part of the energy quotient that drives change. This conference explored the hands-on reality of how to affect lasting behavior change starting in the kitchen.
But as Eisenberg and his colleagues from Harvard School of Public Health, Samueli Institute and the CIA made abundantly clear throughout the three-day conference – the reality of the epidemic of chronic lifestyle disease can no longer be repaired with passive medicine. "No one professional group (medical, culinary, behavioral, corporate, food industry, environmental or IT) can address these challenges alone," Eisenberg says. It will take a powerful shift that can be condensed down to two words, collective impact.
By definition, collective impact is "commitment of a group of actors from different sectors to a common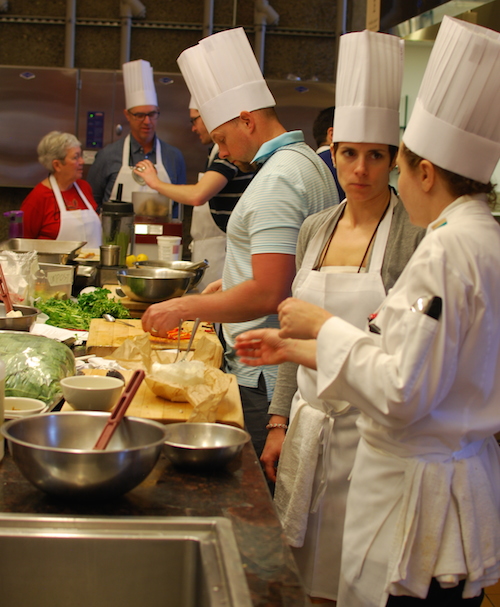 agenda for solving a complex social problem." Healthy Kitchens, Healthy Lives is collective impact in the kitchen. It's a micro-lab for medical professionals to trade in their white coat for a white apron and toque to explore the "what ifs." "What if subjects learned different food choices, movement habits and behavioral changes strategies as part of their intervention?, asked Eisenberg.
The challenge is to insert one's self into an area of health that is less clinical, more emotional and far less linear than what was learned in medical school. It might mean finding partners outside the medical world to disrupt the status quo. What might that look like? Here are some what if ideas:
What if there was teaching kitchens in our hospital to teach behavior change from behind a stove, not an exam-room desk? Take a look at the Henry Ford Bloomfield Hospital Demonstration Kitchen (contact the Samueli Institute if you are interested in building a teaching kitchen).
What if you partnered with a local YMCA to help your patients and their families build movement, physical activity and healthy eating into their daily lives? Take a look at this YMCA MEND program at the Longmont YMCA in Colorado, they are highly successful and a fun way to introduce health and wellness to your patients. Disclosure: I am in the board for this YMCA, email me if you want to know more.
What if you helped changed healthy eating habits by prescribing fruits and vegetables? Here is a program that is ready made called FVRx, Fruits and Vegetable Rx.
What if you attended HealthyKitchens HealthyLives Conference in 2014? YouTube Video about the conference.