This webinar, Brain Health & Fatty Acids: Moving Beyond Relief to Optimization, is a powerful look at how we should get patients to better understand the brain and use this information to make changes in nutrition and supplementation. Daniel T. Johnston, MD, MPH LTC, US Army MC, of the Pentagon's Executive Medicine Office of the Surgeon General and cofounder of BrainSpan says that this can only start with practitioners knowing more about the brain. By focusing on brain health, practitioners can make dramatic changes in patients' future quality of life, he says.
During this webinar, Dr. Johnston discusses which metrics are most important to human health and why, as well as the most reliable way to measure them. Dr. Johnston provides an understanding of the term "cellular resilience" and "inflammatory states" and applications to everyday conditions seen and managed by healthcare professionals. He also explains the connections between fatty acids, cellular aging/health, and neurocognitive health. Functional Cognitive Testing will be detailed—what is it, how is it done, what it means and how it can be useful within the context of behavioral change and predictive analysis will be detailed. Effective and simple nutritional therapies truly aimed at improving cellular health will also be discussed.
NOTE: THOUGH THIS WEBINAR TITLE CALLS OUT CHIROPRACTORS, DR. JOHNSTON STRESSES THIS WEBINAR IS RELEVANT TO ALL PRACTITIONERS.
CLICK ON THE IMAGE BELOW TO REGISTER FOR ACCESS TO DR JOHNSTON'S WEBINAR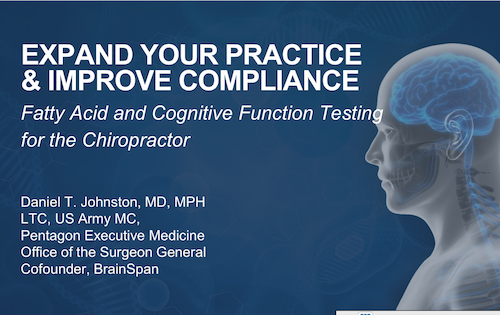 ---
Dr. Johnston will be speaking on The Brain, The Gut, The Cell, April 28, 2018, 8:30am to 6:00pm at The Courtyard by Marriott, Central Park 1717 Broadway 10019 New York, NY. More information here.

---
BIO: Daniel T. Johnston, MD, MPH is a leader in preventative health, brain performance optimization and human resilience. He has served as a physician and researcher in the US Army from the Pentagon to Iraq and recently cofounded BrainSpan. He pioneered the first studies in Omega-3 and brain health in the Army in combat environments using a finger stick dried blood spot technology. He led a successful pilot program at two large Army installations using qEEG for performance enhancement. A leader in assessing, quantifying, and improving dietary cellular and brain health and performance. He was one of the few to hold both the Navy and Army flight surgeon badges. For more information on BrainSpan, https://www.brainspan.com/