Yerba Mate, a dietary supplement and popular coffee and tea shop beverage, may be beneficial for improving diet-induced adiposity, insulin resistance, dyslipidemia, and hepatic steatosis. In the first animal study of its type, published in J. of Medicinal Food, researchers examined the effects and potential underlying mechanisms of long-term supplementation with dietary yerba mate on high-fat-diet (HFD) induced obesity. The following are excerpts of the study, followed by a link to download the entire study.
What is Yerba Mate?
Yerba mate is the dried leaf of the plant Ilex paraguariensis. The green leaves are traditionally consumed as a beverage in South American countries, particularly Argentina, Uruguay, Paraguay, southern and central-western Brazil, the Chaco region of Bolivia, and southern Chile.
What are the biologically active components?
The plant contains beneficial phenolic acids, including chlorogenic acid and caffeic acids; the flavonoids quercetin, rutin, and kaempferol; and glycoside  saponins, and lastly, caffeine. These components are responsible for pharmacologic activities, including antioxidant, anti-inflammatory, antiatherogenic, and glucose-lowering properties.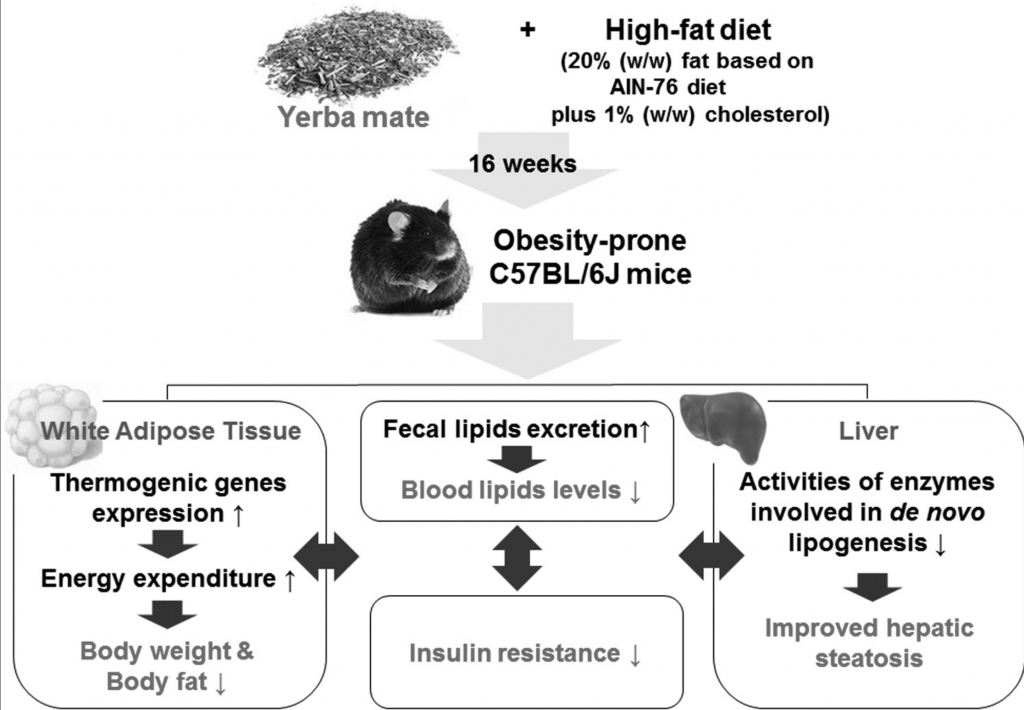 Study Parameters
Twenty male rats were randomly divided into two weight-matched groups and fed their respective experimental diets for 16 weeks as follows: 1. HFD (control group; 20% [w/w] fat based on the AIN-76 diet plus 1% [w/w] cholesterol) and 2. HFD with yerba mate (mate group; 0.62% [w/w], ∼400 mg/kg body weight/day). Dried yerba mate powder was incorporated directly into the HFD, The HFD contained 40 kcal% fat, 17 kcal% protein, and 43 kcal% carbohydrate with the fat sources consisting of lard (85% [w/w] of total fat) and soybean oil (15% [w/w] of total fat).
Yerba Mate Study Findings
Supplementation of an HFD with yerba mate (∼400 mg/kg body weight) for 16 weeks significantly decreased final body weight and body weight gain compared to HFD control mice. See Figure 1
Moreover, morphological observations indicated that epididymal adipocyte size in the yerba mate group was smaller than that in the control group. The weight of epididymal, visceral (sum of epididymal, perirenal, mesenteric, and retroperitoneal WAT weight), and total white adipose tissue (WAT is the sum of visceral, subcutaneous, and interscapular WAT weight) was also lower in the yerba mate group than in the control group, although supplementation did not alter the weight of subcutaneous WAT.
The study also observed that yerba mate significantly decreased plasma leptin levels. In C57BL/6J mice fed HFD, supplementation with aqueous extract of yerba mate (500 mg/kg body weight) for 4 weeks also decreased body weight, adiposity, and blood leptin levels.
FIGURE 1
Conclusion: The results support previous findings showing that yerba mate protects against body weight gain and adiposity. This study first demonstrated that long-term supplementation of dietary yerba mate increased energy expenditure and upregulated mRNA expression of thermogenic genes in WAT, whereas it downregulated mRNA expression of fatty acid synthase (FAS) in WAT, which may result in reduced adiposity in HFD-induced obese mice.
Moreover, the botanical improved dyslipidemia and hepatic steatosis through a decrease in hepatic lipogenic enzyme activity with a simultaneous increase in fecal lipid excretion, and these beneficial effects appeared to be related to the amelioration of insulin resistance induced by HFD. Figure 4 illustrates the possible mechanisms by which yerba mate may improve metabolic disturbances in HFD-induced obese mice.
These findings support previous reports regarding the anti-obesity effect of yerba mate and suggest that yerba mate may represent a useful natural candidate for the control of obesity and obesity-related insulin resistance, dyslipidemia, and hepatic steatosis. However, further studies are needed to determine maximum tolerated dose of oral yerba mate powder.