Women with premenstrual syndrome (PMS) commonly complain of sleep disturbances, specifically in the luteal phase of the menstrual cycle. This study looked at the effects of yoga on quality of sleep of women experiencing PMS, as published in Alternative Therapies in Health and Medicine.
It is well known that yoga affects physical and mental health functions through negative regulation of the hypothalamic-pituitary-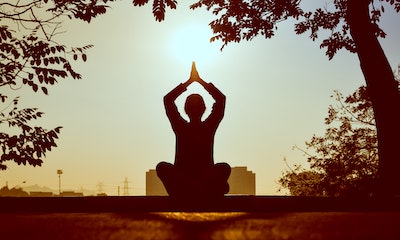 adrenal axis in association with the sympathetic nervous system. It also regulates the secretion of cortisol, glucose, and plasma's renin, epinephrine, and nor-epinephrine in the bloodstream,affecting vagal nerves, which are responsible for body functions. Yoga also reduces negative effects of stress on the immune system by positively regulating the levels of immunoglobulin A.
Women with PMS report a variety of symptoms, as compared to women without PMS, including, insomnia and excessive daytime sleepiness, frequent awakenings, disturbing dreams, difficulty initiating sleep after an arousal, sleepiness, fatigue, lethargy, decreased alertness, and poor concentration.
In this study, women (aged 20-45 yrs) monitored for PMS, were referred to the private obstetrics and gynecology clinics in Tabriz, Iran. Afterward, 62 women, were selected and divided into 2 groups, randomly: 31 subjects in the yoga group and 31 in the control group. Subjects in yoga performed for 10 weeks in three sessions, with each session lasting 60 min. Subjects in the control group did not perform any yoga. Subjects completed a demographic questionnaire and the Pittsburgh sleep quality index (PSQI) questionnaire before and after yoga.
Data from the PSQI questionnaire showed that the following items in the yoga group after exercise significantly improved (P<.05):
How long (in minutes) it took for participants to fall asleep each night;
How many hours of actual sleep participants had;
How much of a problem it was for participant to maintain enthusiasm to get things done and during the past month, and how participants rated quality of sleep overall;
How often have participants had trouble sleeping in the past month, subjects from the yoga group expressed significant improvements after yoga intervention. Ability to fall asleep within 30 minutes, needing to get up to use the bathroom, feeling too cold, and having bad dreams were significant as well (P < .05).
However, the question about waking up in the middle of the night or early morning and feeling too hot were significant in the control group (P<.05).
Conclusion / Yoga reduced the disturbances of sleep in subjects with PMS. The findings indicate that yoga would have beneficial effects in treating sleep disturbances in women with PMS, but medical treatment will probably be needed in severe situations. To read about each of the week's yoga movements for each of the instruction weeks, download the study below.
To gain access to this article and the rest of our extensive database of full-text articles, please register below or log in here.