This interview with Jacob Teitelbaum, MD, Chronic Fatigue Syndrome and fibromyalgia (CFS/FMS) researcher and board-certified internist explores the commonalities among CFS/FMS and post-viral COVID (aka Long-Haul Syndrome) and relapse symptoms seen in patients after viral infection. As described in a recent case study in Clinical Microbial and Infections, persistent symptoms include myalgia, intense fatigue, sensation of fever, shortness of breath, chest tightness, tachycardia, headaches and anxiety.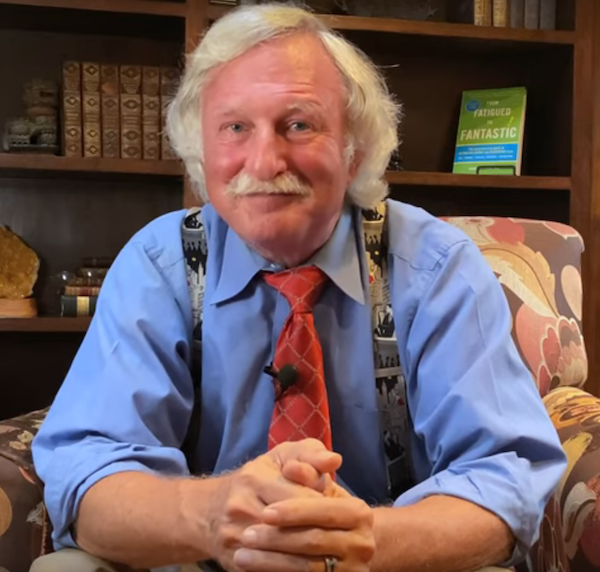 Dr. Teitelbaum, author of from Fatigued to Fantastic (Avery, Sept. 2020), specializes in working with patients with CFS, fibromyalgia and other autoimmune diseases that are historically difficult to diagnose and treat. "Post viral fatigue isn't really anything new," he says. "There is a great deal we can apply from what we know about CFS to persistent post-COVID symptoms. However, what is new is post-viral organ damage, including cardiac injury as well as brain, kidney and pulmonary involvement."
Teitelbaum's experience treating autoimmune conditions supports his belief that holistic medicine is ideally suited to treat patients with long-haul COVID symptoms. Teitelbaum has spent his career on CFS and similar autoimmune conditions. It's a career path he never planned on pursuing in medicine. While in medical school he suffered from CFS and fibromyalgia, which left him homeless and hopeless. Through the grace of the right people who entered his life, he found treatments that were unknown to the allopathic medical community. Through self-treatment and the help of his new healers, he recovered and completed medical school with a passion to help others who suffered in the same way.
Dr. Teitelbaum developed the S.H.I.N.E. protocol, which effectively addresses autoimmune conditions through sleep, hormones, immunity/infections, nutrition and exercise. He believes that holistic medicine therapy can also treat the complex issues associated with post COVID persistent symptoms. In the following, we inquire as to how this might occur as this new era of post pandemic medicine is being revealed on a daily basis.
Today's Practitioner: From your experience working with autoimmune conditions, what are the clinical parallels with post infection persistent COVID?
Dr. Teitelbaum: Research shows that about half of the cases of CFS/FMS are postinfectious. COVID 19 is simply one of many triggers. The hallmark symptoms of having the paradox of insomnia despite exhaustion, widespread pain, and brain fog mark CFS/FMS and Post-COVID 19 "Long Haulers-Syndrome" as being the same conditions.
TP: As you experienced in your own life, CFS is very difficult to diagnose and treat without the training that comes with holistic and integrative medicine. It seems that long-haul COVID is no different. What should the first clinical steps be when treating patients who are experiencing post-infection organ damage, neurological disorders, inflammation and pain after COVID-19 infection?
Dr. Teitelbaum: Actually, the diagnosis is simple. The paradox of inability to sleep despite exhaustion, especially when associated with widespread brain and/ or brain fog, makes the diagnosis very likely. Even if other associated conditions such as lupus or rheumatoid arthritis are present. If not sure, a simple 5 minute quiz at https://www.vitality101.com/cfs-fms-checklist can confirm the diagnoses.
 It is the treatment itself that is complex. Each case is different and has a different mix of processes causing the body wide energy crisis. Using the S.H.I.N.E. acronym organizes things. I would begin by optimizing sleep with a mix of several low dose treatments.
Our recently published studies shows that 60% of people with severe postviral problems have an average 69% increase in overall well-being using a simple but unique European bi and tri-peptide mix called Recovery Factors (www.RecoveryFactors.com ). So, sleep and the recovery factors are two good places to begin. I also begin with low dose naltrexone 3 – 4.5 mg at bedtime to decrease microglial activation (takes 8-10 weeks to start working) as well as a special very highly absorbed form of curcumin (Curapro 750 mg 1-2 BID) to reverse excessive inflammation in the organs.
TP: It is generally agreed upon that COVID-19 hits men harder that women. The ICU admission rates that are three times greater for men than women are proof enough (Nature). However, seventy-five percent of patients suffering from COVID-19 long hauler syndrome are women. Why is this?
Dr. Teitelbaum: Because postviral CFS/FMS reflects immune dysfunction, and immune issues hit women three times as often as men. This is why about three quarters of people with fibromyalgia, lupus, rheumatoid arthritis, and MS are female.
TP: As seen in the case study mentioned earlier in CMI, physicians are reporting a steady stream of post-infection patients with symptoms that look a lot like CFS. We could likely be entering a new era of medicine where understanding the complexity of post viral infection will be imperative to treating the significant number of patients who will need help. What would you like other physicians to understand about these patients and the treatments that will be necessary for symptom relief and returning them to a higher quality of life?
Dr. Teitelbaum: Key things to realize are:
These are real, physical, and devastating illnesses, even if you don't yet understand them. Some abusive physicians have the bad habit of implying to these people and their families that since they do not know what's wrong with them, they are crazy. This is reminiscent of the days that multiple sclerosis used to be called "hysterical paralysis." Instead, it is okay to say "I'm sorry, I do not know what's wrong with you. Let's find somebody who does."
This illness often occurs in people who try to push through the infection and its sequalae instead of taking the time to rest. Explain to them that they will get better with proper treatment, but they do need to give their body time to heal.
Discuss how this is simply postviral CFS/FMS. And that research shows that this is very very treatable. Let them know that placebo-controlled research showed that 91% of people improve, with an average 90% increase in quality of life, with a comprehensive treatment approach. My website at www.Vitality101.com can guide their recovery.
---
Follow this link for a list of Dr. Teitelbaum's research.
More on the S.H.I.N.E. Protocol here.
About/ Jacob Teitelbaum, M.D., is one of the most frequently quoted integrative, pain and fibromyalgia medical authorities in the world. He is the author of the best-selling From Fatigued to Fantastic!, Pain Free, 1,2,3!, the Complete Guide to Beating Sugar Addiction, Real Cause Real Cure, The Fatigue and Fibromyalgia Solution, Diabetes Is Optional and the popular free Smart Phone app Cures A-Z. He is the lead author of five studies on effective treatment for fibromyalgia and chronic fatigue syndrome, and a study on effective treatment of autism using NAET. Dr. Teitelbaum appears often as a guest on news and talk shows nationwide including Good Morning America, The Dr. Oz Show, Oprah & Friends, CNN, and FoxNewsHealth. Learn more at www.Vitality101.com and www.EndFatigue.com.