[Disclosure: My explorations of politics on this blog are limited to how political courage and well-expended political capital can have a sustainable impact on reducing our current cancer burden. ~ Glenn Sabin]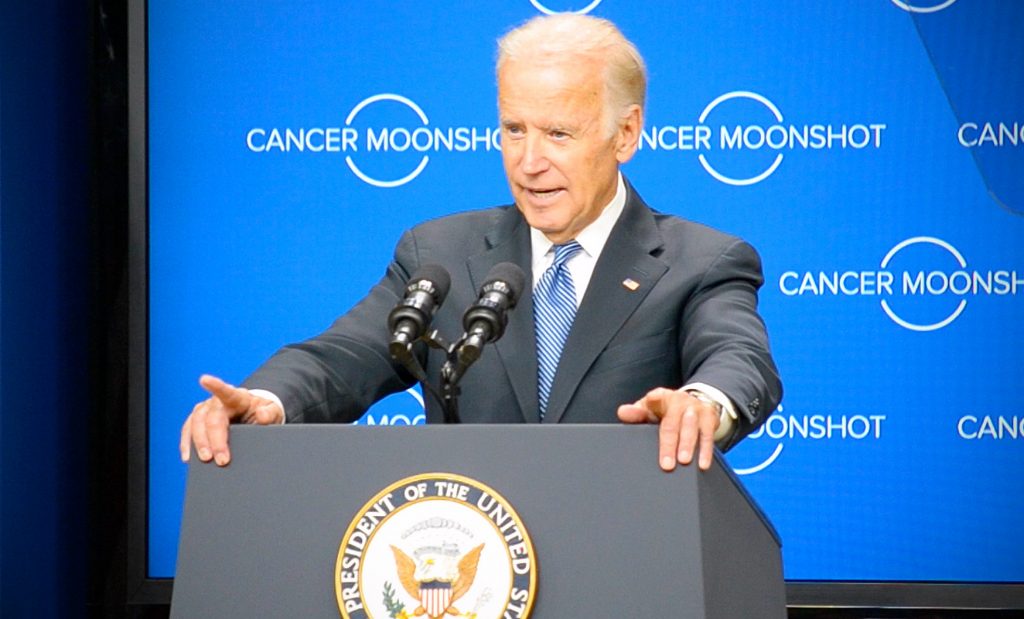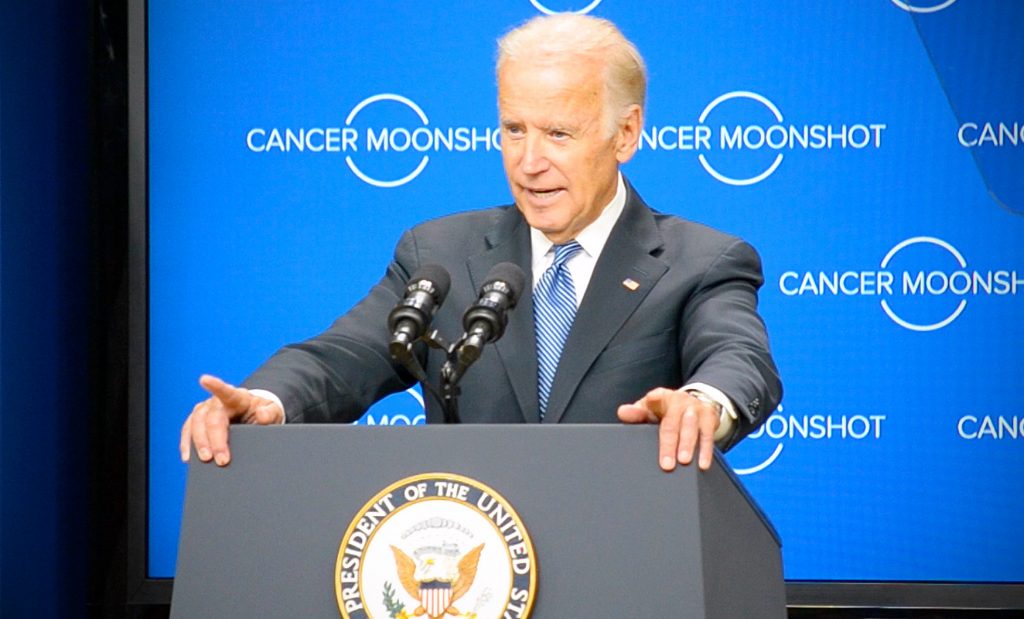 Given former vice president Joe Biden is currently atop the polls of democratic hopefuls in the hunt for the 2020 nomination, the announcement that the Biden Cancer Initiative (BCI) suspended operations—after a mere two years of existence—was no real surprise.
According to bioethicist Arthur Caplan, it needed to shutter because a "Biden administration would give favorable treatment for anyone who supported his foundation in the past."
This naturally leaves one to wonder about:
Biden's original dream to positively impact the cancer burden, if or how that will fit into his future, and from what perch Biden can be most effective thwarting cancer's insidious breadth and reach?
Biden's ability to leverage his personal brand and energy—after losing his party's nomination or even after winning a White House bid—in service to cancer patients and those wishing to prevent it.
The funding he took in to support his initiative—and the good work of many to build its infrastructure and influence. Does this momentum just evaporate?
That's a lot to wonder about in regard to Biden's future as a champion for those affected by cancer's sinister grip.
Let's dig in and review what happened shortly after Biden launched BCI and I responded.
What We Need is a Cancer 'Prevention' Moonshot was the title of an open letter I wrote to Biden when the Cancer Moonshot was announced. I strongly posited the obvious:
A focus on the comprehensive prevention of cancer would have the most impact at the lowest cost.
Though comprehensive prevention does not appear as sexy or innovative as, say, developing magic bullet immunotherapies such as genetic modification of T-cells, the massive financial benefit from potential health gains can no longer be ignored: improved quality of life, healthcare savings, increased productivity in the workplace, gains from a healthy workforce, higher earnings, are powerful arguments.
I'll wait here while you catch up by reading the open letter.
Cancer's complexity does not need to overpower the fact that there is more than one way to reduce its burden. Reduction is accomplished through innovative cancer treatment and common sense cancer prevention strategies to protect the population.
I said then, and it remains so: we need a serious, executable plan for the latter so that the two approaches can be mutually supportive because, otherwise, when prevention is not given the same support as treatment … cancer wins.
The Genesis of Biden Cancer Initiative
When Biden decided not to run for president in 2016—shortly after losing his son, Beau, to glioblastoma metforme—he announced to the world that running for office would keep him from his dream of leading a revolution in cancer treatment.  What began as the Cancer Moonshot under the Obama administration was rebranded as Biden Cancer Initiative in 2017, and it focused its mission to discover immunotherapies to treat cancer.
BCI endeavored to pool and share the resources of leading pharma, biotech, academic centers, and oncologists to fast-track the exploration of scores of novel agents and combinations of agents in service of the so-called war against cancer. Per BCI's website, "The Biden Cancer Initiative is a response to the lack of a cohesive, comprehensive and timely approach to cancer prevention, detection, diagnosis, research, and care." (Note: the emphasis is mine.)
To lead BCI, Biden hired seasoned industry veteran Greg Simon who is a cancer survivor and the first president of FasterCures. Biden also engaged the Michael Miliken think tank dedicated to fast-tracking medical solutions.
Within a week of my open letter to Biden appearing on my websites and social media, I heard from a senior staffer at BCI. She asked if I would be interested in visiting BCI and meeting with their team to discuss integrative oncology and the impact of lifestyle on cancer prevention, treatment, and survival. After agreeing to meet, I never heard back. I will leave it to others to measure the impact and accomplishments of BCI over such a short—two-year—lifetime.
Apparently, cancer prevention was never a substantive focus of BCI—a lost opportunity for Biden and BCI to have a significant impact nationwide.
The Impact of Closing BCI
I am not convinced the shuttering of BCI will ultimately represent a substantive loss to cancer drug discovery or the speed with which novel agents are investigated and brought to market. After all, there remains plenty of commercial incentive, and support from well-intentioned non-profit organizations and government alike, to keep the innovation train running.
Lack of Access or Lack of Innovation?
When it comes to the delivery of quality cancer care and the few magic bullet cancer 'cures', is it primarily an access issue, a shortage of innovation, or both, that accounts for disparities in overall survival? Lack of access for some, and lack of education for many on how to best navigate a cancer diagnosis in a complex health environment, is an ongoing problem.
While constant, expeditious innovation is crucial, we have yet to respond intelligently to what we already know—where the literature is clear and building: a high-quality diet and regular exercise resulting in a healthy body mass index can help prevent many types of cancer. Adequate sleep, social interaction, hydration via unadulterated water, and reduced toxins in our everyday environment… can all support a strong immune function and help create a terrain inhospitable to cancer.
Smoking and alcohol cessation programs, vaccines, colonoscopies, and other early detection procedures and tests are critical to early treatment when cancer is most treatable, but we should be preventing more cancer occurrences altogether.
When we are fully engaged in a complete prevention plan we can prevent more cancers than are currently caught in early stages of development.
These things—smoking cessation et al—are vital to prevention, but offered alone and often in silos, do not make for a truly comprehensive cancer prevention strategy. Sadly, these are the limited approaches that tend to currently comprise the definition of 'cancer prevention'.
We are 'feeding' a pro-cancer environment largely of our own making because our priorities and politics are compromised. This happens when:
…the volume of healthcare delivered, and consumption of medications, are commercially incentivized, whereas prevention is not;
…agriculture is driven by volume, aided by chemicals that should be banned but remain unregulated;
…we subsidize crops, many genetically modified, to support a vast ultra-processed foodstuffs industry;
…food deserts and lack of nutrition education deny the opportunity for wellness by keeping millions of people from accessing healthful, real food;
…environmental regulations are gutted and the EPA runs amok—especially these last couple of years—but in reality, unlike most of Europe, we've been swimming in under-tested chemicals for decades; they're in our food supply, household cleaning agents, and cosmetics and toiletries.
New drug discovery is critical, but for the most part this process is a commercial endeavor to address existing disease and its many deleterious side effects. This is why we need people such as Joe Biden to better understand the drivers—especially political drivers—of a most malignant disease, and how mostly low-tech, high-touch, affordable approaches are critical to true cancer prevention, health creation, and education.
How Joe Biden Can Still Make a Difference
Biden has, so-far, missed his opportunity to reduce the cancer burden in the U.S. However, should he decide to revisit his mission, it is paramount he look at the lowest hanging fruit to make impact where he can be most effective: prevention via education and legislation… by leveraging and expending significant political capital.
C'mon man—we need you, Joe.
First published at FON Consulting by Glenn Sabin. Read more of Sabin's blogs here.
---
About Glenn Sabin and FON / Glenn is director of FON Consulting, a leading strategy and business development consultancy specializing in the integrative health and medicine sector. FON's clients span from medical practices, hospitals and health systems, to nutraceutical, pharmaceutical, and media companies. Glenn brings economic and moral clarity to the misnomer that health creation and promotion cannot align with profitability.
Prior to launching FON in 2009, Glenn was the CEO of JazzTimes, Inc., an entertainment-based media and marketing agency headquartered in the Washington, DC metro area.  After a 25 year tenure, and achieving exponential revenue growth, Glenn exited JazzTimes, Inc. to launch FON.
The shift from entertainment media to integrative health. In 1991, Glenn Sabin was a 28-year-old newlywed diagnosed with chronic lymphocytic leukemia (CLL), an incurable cancer. He created his own medically monitored and carefully researched lifestyle changes, including a whole foods predominantly plant-based diet. Glenn would conduct his own, informal, single patient clinical trial, which was chronicled by Dana-Farber Cancer Institute and his personal oncologist Lee Nadler, MD, dean for clinical and translational medicine at Harvard Medical School. Glenn achieved a complete remission from CLL without conventional cancer treatment. His case is part of the medical literature.
Glenn is participating in, and advising Harvard's Bioinformatics Department on its People-Powered Medicine NEER Study, an initiative investigating exceptional responders. He was the recipient of American College of Nutrition's 2017 Communications and Media Award. In 2017 Glenn published his popular memoir, n of 1: One Man's Harvard-Documented Remission of Incurable Cancer Using Only Natural Methods. www.fonconsulting.com, www.glennsabin.com