A recent New York Times article, CBD is Everywhere, But Scientists Still Don't Know Much About It, paints a picture of snake-oil sales, hyped-up claims and minuscule science. Is that true or a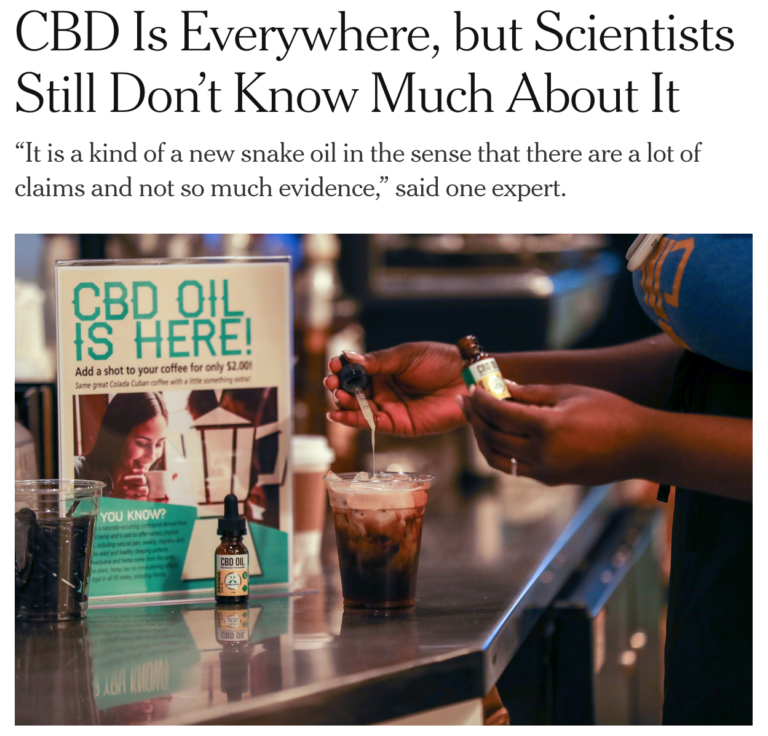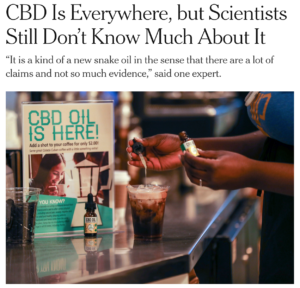 journalistic stretch? The article prompted Today's Practitioner to dig up two well-researched studies from Cannabis and Cannabinoid Research, from Mary Ann Liebert Press that say otherwise. Before we get to that, let's dissect the New York Times article.
First, there is a quote from FDA, "This deceptive marketing of unproven treatments raises significant public health concerns, as it may keep some patients from accessing appropriate, recognized therapies to treat serious and even fatal diseases."
OK, false claims are misleading and companies should be held to standards.
Others said the compound holds potential but, "let's do the research. It's crazy that this substance is being consumed by everybody, yet we still don't know the mechanism of action," from Dr. Yasmin Hurd, director of the Addiction Institute at Mount Sinai in New York City and a professor at the Icahn School of Medicine.
True, we are still learning about the endocannabinoid system and CBD's mechanisms of action.
Perhaps the most damning of all the quotes, "It is a kind of a new snake oil in the sense that there are a lot of claims and not so much evidence," said Dustin Lee, an assistant professor in psychiatry and behavioral sciences at Johns Hopkins University. Lee is currently planning a human trial of CBD for use in quitting smoking.
Snake oil? What is snake oil anyway?
It's clear that everyone the reporter, Roni Caryn Robin, talked to is on the fence about CBD. But it's the comments from readers that tell a bigger story. As of midweek, there were 160 comments, a few negative ones from readers for whom CBD did not work, but a majority poke holes in the notion that the evidence is lacking. To these readers, their own experience is evidence enough. For instance, a reader from Santa Fe says:
"Interesting that this article mentions just one study from Israel but no mention of the 20 years of research done there, largely funded by the U.S., which has led to government approval of certain medical uses there, including for depression in nursing home patients. Wrong to say there's been no research, or very little. Very little here, because it's been illegal, but not very little when work in other countries, especially Israel, is considered."
Another comment from a Colorado reader:
"Drug companies have been able to develop, test, and market drugs for decades, while cannibis-derived products have only been legal — and only in some regions — for a very limited amount of time, it stands to reason that there has been limited research on CBD. In its stead is only "anecdotal evidence." Reams of it. And while anecdotal evidence is routinely dismissed by the medical community, in the absence of formal studies, it is foolish and pig-headed to dismiss it entirely, especially when the risks for harm are so low. CBD absolutely needs to be regulated to ensure quality product, but I have yet to find evidence — scientific or anecdotal — that it is dangerous in any way. I hope people who are suffering don't let the lack of institutional evidence scare them off from finding effective doses, when the potential benefits are so great."
And, finally from Washington State:
… an article on CBD appears in every periodical … It does appear that every drug company is producing some form of it … However, journalists could do us all a service by … paying attention to reader comments … Most of us who take CBD have researched it, and, the other meds we take … for what seems like an eternity… We simply wouldn't be taking it if CBD didn't work for us … All I need to know is … CBD has allowed me to cut pain med use by 2/3 … and… it's one of the few drugs that helps with my non epileptic seizures.. Living with pain… and… enduring seizures is simply what many of us have to deal with … There may be significant percentage of bad CBD products … But … I have learned to trust my seller and the firm that makes my CBD… Most folks are pretty smart… they wouldn't be taking CBD if it didn't help.
It appears that those who take CBD may be better versed in the research and its historical uses than we realize. One reader cited PubMed as a resource for thousands of studies, while another said the New York Times is "picking on CBD" and not doing enough of their own research. Clearly American's are taking their health into their own hands and seeking solutions outside the norm. At the same time, they want standards and more science as this comment from Alaska suggests:
Check out ProjectCBD.org – under "guidance" and "conditions" you'll find all the published research on various conditions on the NIH website. Lots of good info there on dozens of conditions. but I agree more research is needed. Looking forward to the day when all cannabis compounds are fully vetted.
So what do we know about CBD? And what do you tell your patients? As you will read in these open access articles, the science is emerging and your patients are using CBD with or without your knowledge. We've captured the abstracts and offer a link to the full-text article so you can decide for yourself on how to use CBD in your clinical practice.
---
ARTICLE 1: An Update on Safety and Side Effects of Cannabidiol: A Review of Clinical Data and Relevant Animal Studies
Abstract
Introduction/ This literature survey aims to extend the comprehensive survey performed by Bergamaschi et al. in 2011 on cannabidiol (CBD) safety and side effects. Apart from updating the literature, this article focuses on clin- ical studies and CBD potential interactions with other drugs.
Results/ In general, the often described favorable safety profile of CBD in humans was confirmed and extended by the reviewed research. The majority of studies were performed for treatment of epilepsy and psychotic dis- orders. Here, the most commonly reported side effects were tiredness, diarrhea, and changes of appetite/weight. In comparison with other drugs, used for the treatment of these medical conditions, CBD has a better side effect profile. This could improve patients' compliance and adherence to treatment. CBD is often used as adjunct ther- apy. Therefore, more clinical research is warranted on CBD action on hepatic enzymes, drug transporters, and interactions with other drugs and to see if this mainly leads to positive or negative effects, for example, reducing the needed clobazam doses in epilepsy and therefore clobazam's side effects.
Conclusion/ This review also illustrates that some important toxicological parameters are yet to be studied, for example, if CBD has an effect on hormones. Additionally, more clinical trials with a greater number of participants and longer chronic CBD administration are still lacking.
Click Here for Full Text Study
Source: Iffland K, Grotenhermen F (2017) An update on safety and side effects of cannabidiol: a review of clinical data and relevant animal studies, Cannabis and Cannabinoid Research 2:1, 139–154, DOI: 10.1089/can.2016.0034.
---
ARTICLE 2: A Cross-Sectional Study of Cannabidiol Users
Introduction: Preclinical and clinical studies suggest that cannabidiol (CBD) found in Cannabis spp. has broad therapeutic value. CBD products can currently be purchased online, over the counter and at Cannabis-specific dispensaries throughout most of the country, despite the fact that CBD is generally deemed a Schedule I controlled substance by the U.S. Drug Enforcement Administration and renounced as a dietary supplement ingredient by the U.S. Food and Drug Administration (NOTE: Article published before the recent change in status). Consumer demand for CBD is high and growing, but few studies have examined the reasons for increasing CBD use.
Materials and Methods: A self-selected convenience sample (n = 2409) was recruited via an online survey designed to characterize whom, how, and why individuals are currently using CBD. The anonymous questionnaire was accessed from October 25, 2017 to January 25, 2018. Participants were recruited through social media.
Results: Almost 62% of CBD users reported using CBD to treat a medical condition. The top three medical conditions were pain, anxiety, and depression. Almost 36% of respondents reported that CBD treats their medical condition(s) "very well by itself," while only 4.3% reported "not very well." One out of every three users reported a nonserious adverse effect. The odds of using CBD to treat a medical condition were 1.44 (95% confidence interval, 1.16–1.79) times greater among nonregular users of Cannabis than among regular users. See Figure 1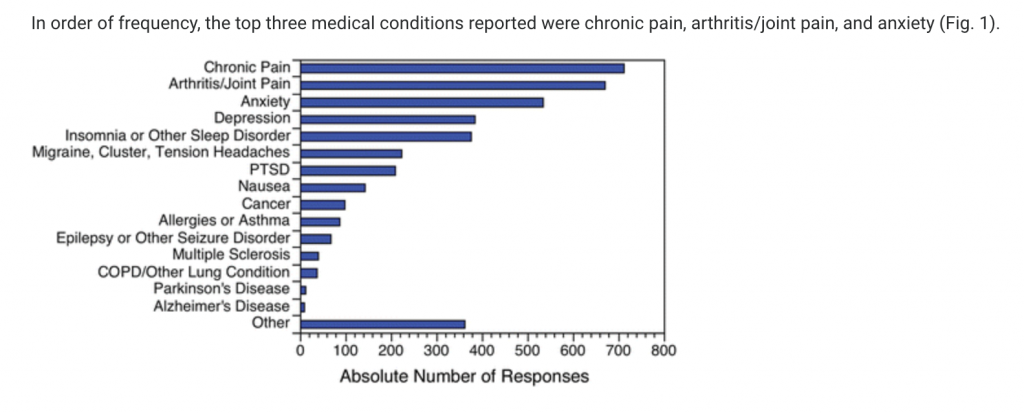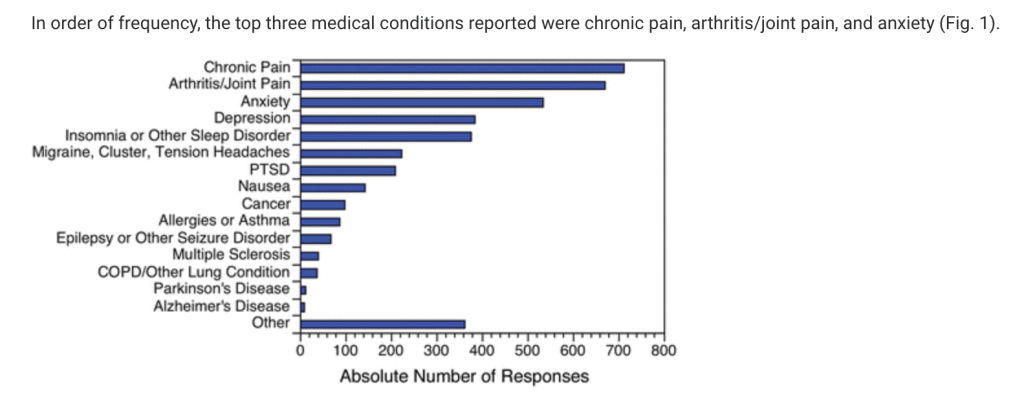 Conclusion: Consumers are using CBD as a specific therapy for multiple diverse medical conditions—particularly pain, anxiety, depression, and sleep disorders. These data provide a compelling rationale for further research to better understand the therapeutic potential of CBD.
Click Here for Full Text Study
Source: Corroon J, Phillips JA (2018) A cross-sectional study of cannabidiol users, Cannabis and Cannabinoid Research 3:1, 152–161, DOI: 10.1089/can.2018.0006