Omega-3 intake could be the easiest line of defense for hypertension. New research published in the July edition of Hypertension shows that a high Omega-3 Index — a newly established risk measure for heart disease — is inversely related to blood pressure levels in healthy young adults. This study sheds light on the effects of Omega-3 fatty acids (n - 3 FA) and blood pressure (BP) for young, healthy adults. This study supports a 2014 meta-analysis by Miller et. al., which concluded that omega-3 fatty acids have blood-pressure-lowering effects.
According to a 2016 global survey, Global survey of the omega-3 fatty acids, docosahexaenoic acid and eicosapentaenoic acid in the blood stream of healthy adults, Northern Americans (excluding Alaskans) have one of the lowest levels of Omega-3 fatty acids, when compared to other developed countries. According to the study, published in Progress in Lipid Research, only countries with high fish consumption. such as Japan, Norway and Greenland, consumed optimal levels of DHA and EPA. See image below.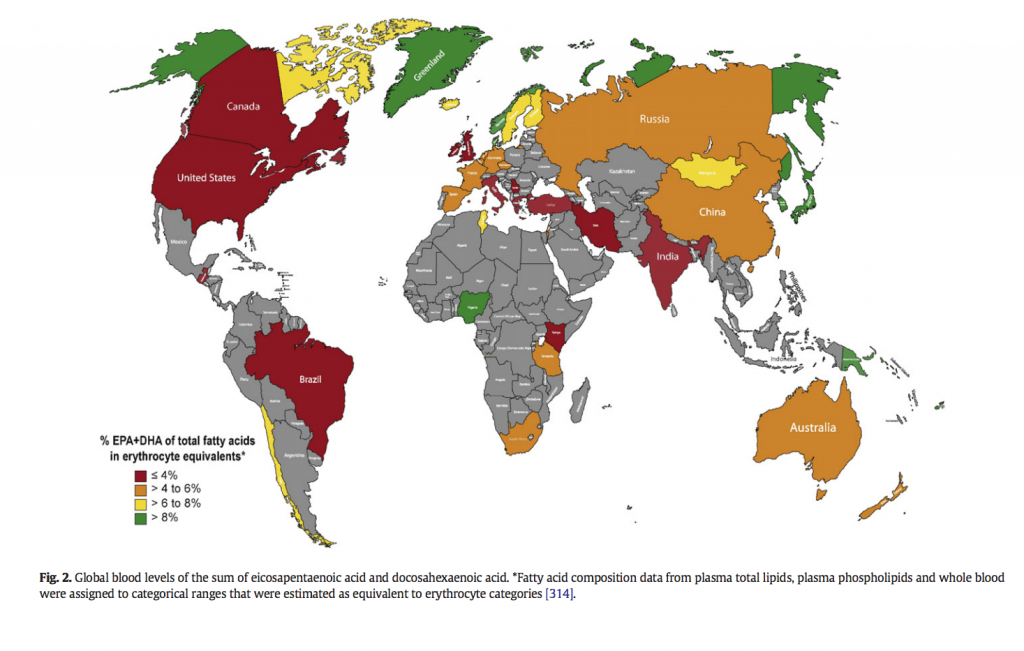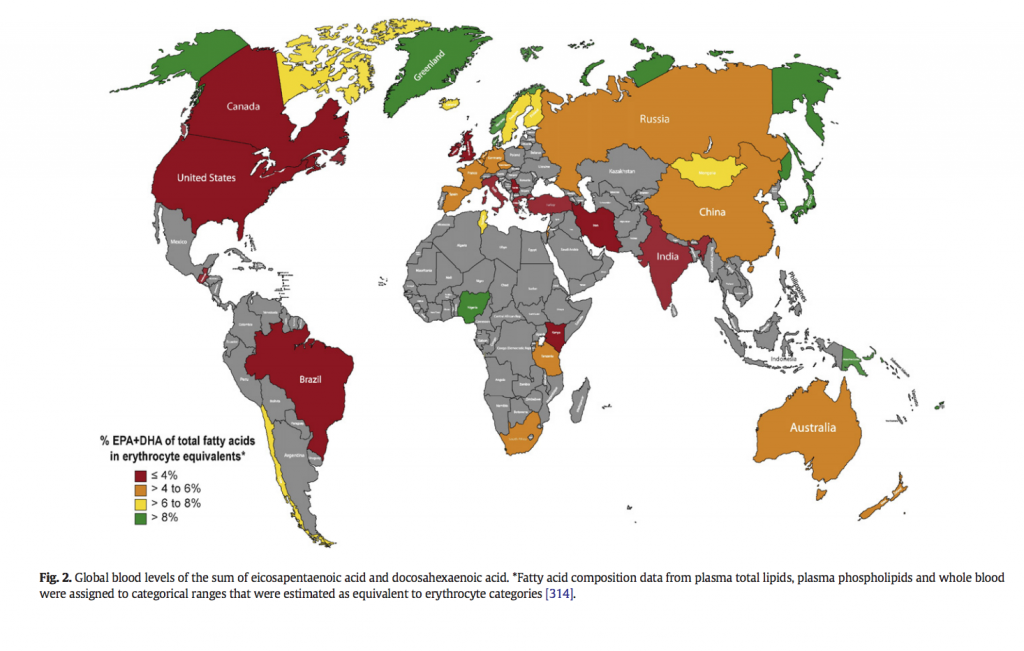 The study in the journal Hypertension evaluated 2036 healthy adults between the ages of 25 and 41. Anyone with cardiovascular disease, known diabetes or a body mass index (BMI) higher than 35 kg/m was excluded. The average Omega-3 Index was 4.58%.
Compared with individuals in the lowest Omega-3 Index quartile, individuals in the highest had a systolic blood pressure (SBP) and diastolic blood pressure (DBP) that was 4 and 2 mmHg lower, respectively.
The fact that a difference in blood pressure was detectable between an Omega-3 Index of 3.8% and 5.8% — only a 2% spread — suggests that the "effect" might have been greater if there was a wider range of Omega-3 Index levels to test.
The Omega-3 Index sets the ideal standard for Omega-3 between 8% and 12% for overall health and reduced risk of premature death.
Omega-3 Index Project
This study used a unique tool for testing Omega-3 levels in red blood cells with a single drop of blood. The blood test, called the Omega-3 Index, was codeveloped by Bill Harris, PhD, an omega-3 expert. As mentioned, Harris and colleagues say the ideal serum range for Omega-3 fatty acids is between 8% and 12%.
The sister campaign, called the Omega-3 Index Project, was established to raise
awareness about the health ramifications of low Omega-3 intake and to help individuals and their physicians personalize and customize their intake. Though most recommendations suggest a maintenance dose of 1,000 mg of combined EPA and DHA, the Omega-3 Index projects emphasizes that everyone is different, therefore personalized testing is recommended.
This is great news, especially since the American Heart Association just announced in January that more than 100 million Americans have high blood pressure, putting them at risk for heart attacks and strokes. That is nearly half of all American adults," said Dr. Bill Harris, co-inventor of the Omega-3 Index test. "The Omega-3 Index is one of the easiest risk factors to modify. All you have to do is consume more omega-3s from the right sources, such as fatty fish like salmon or omega-3 supplements that contain EPA and DHA."
CONCLUSION
The researchers concluded that a higher Omega-3 Index is associated with statistically significant, clinically relevant lower SBP and DBP levels in normotensive young and healthy individuals, and that diets rich in omega-3 fatty acids — specifically EPA and DHA — might be a strategy for primary prevention of hypertension.