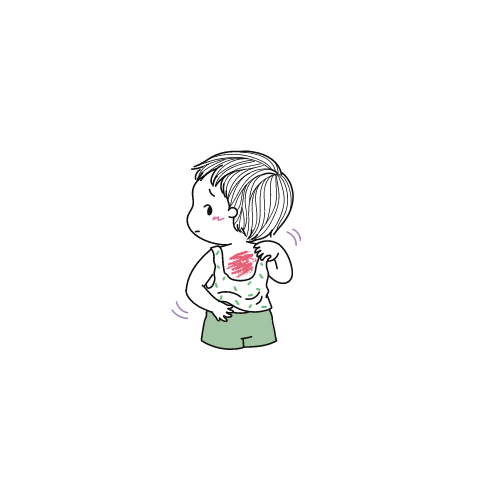 Skin and allergic diseases are on the rise in children. One hypothesis is that there is reduced exposure to microbial components early in life. There are five clinical studies currently available regarding the primary prevention of atopic eczema using probiotic bacteria for allergic diseases. And none have shown promising results, perhaps due to the selection of strains.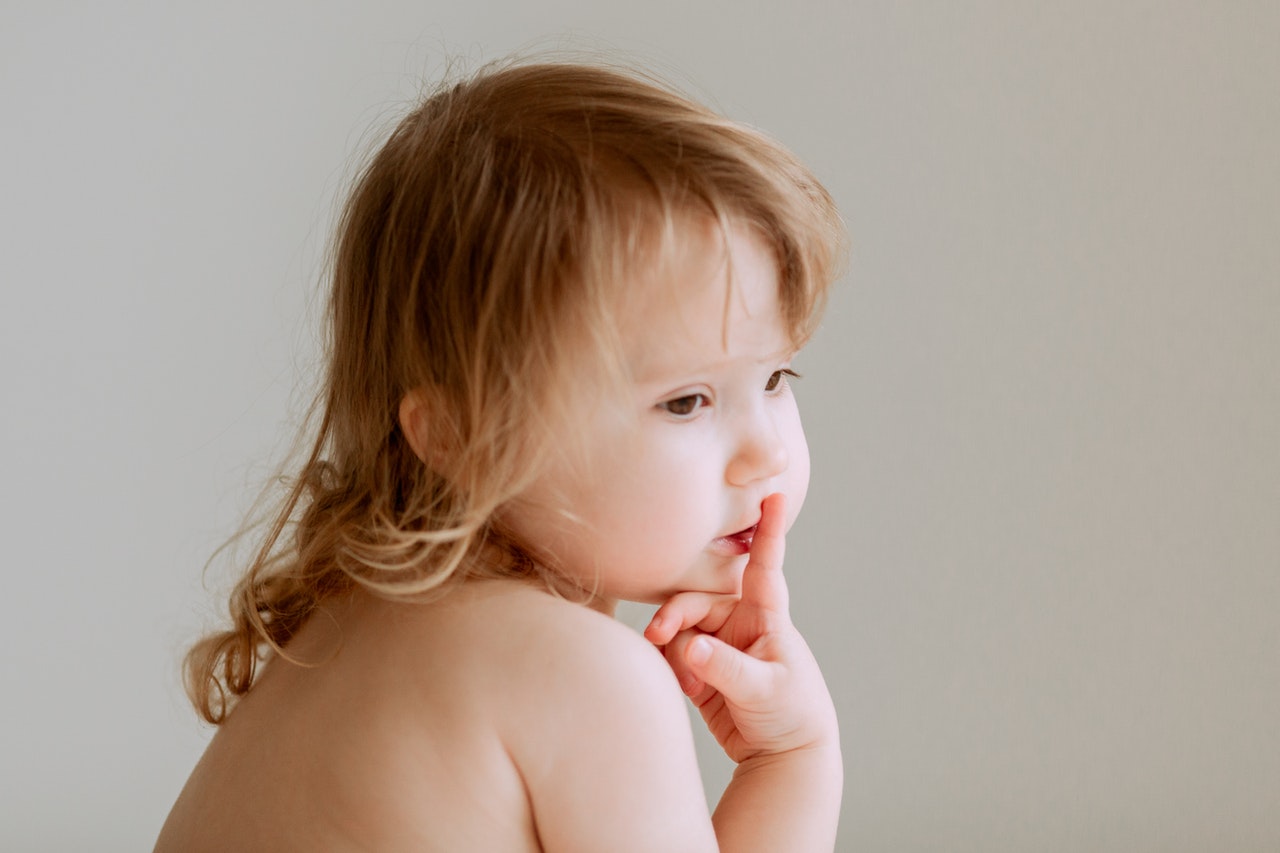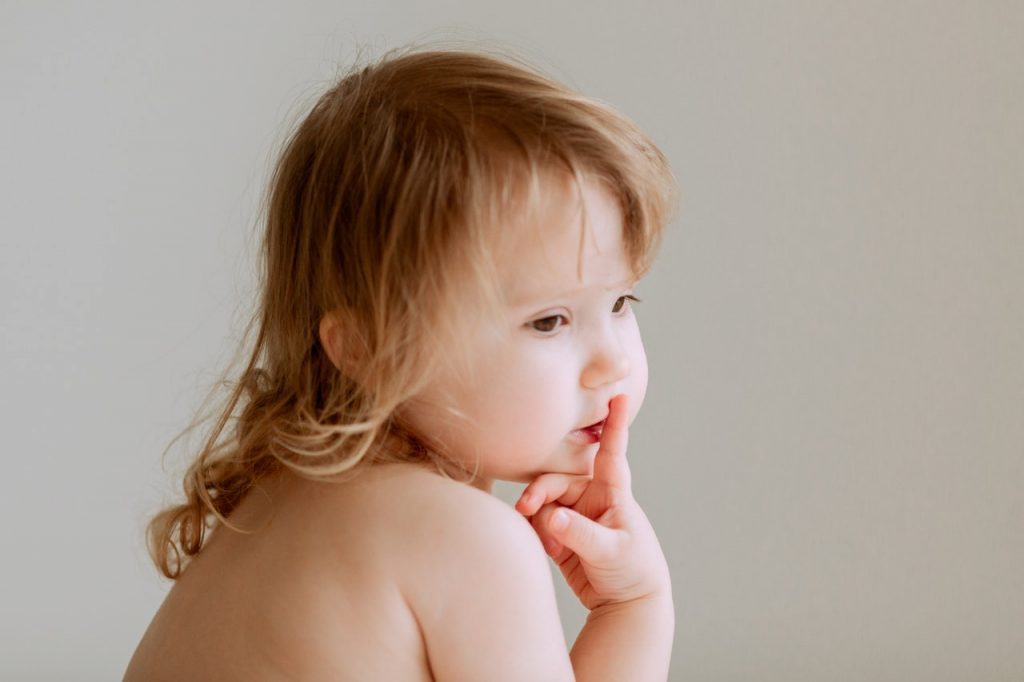 This study chose three specific strains, Bifidobacterium bifidum, Bifidobacterium lactis, and Lactococcus lactis because of their resistance to low gastric pH, pancreatic digestive enzymes and bile salts, thus allowing for greater survival in the first part of the gastrointestinal tract.
They were also chosen because they suppress in vitro production of Th2 cytokines and to stimulate IL-10 production, both by PBMCs. The three selected strains were administered prenatally to pregnant women and postnatally to their offspring, who were at high risk to develop allergic diseases. The researchers investigated the probiotics' impact on development of eczema during the first 2 years of life, and early microbial colonization and immune responses.
Study Methods
The probiotic bacteria were given prenatally during the last 6 weeks of pregnancy and postnatally for 12 months to their offspring. The intervention group received once daily 3 · 109 colony forming units (CFU) (1 · 109 CFU of each strain: B. bifidum W23, Bifidobacterium lactis W52 (previously classified as Bifidobacterium infantis), and Lc. lactis W58) of freeze dried powder of the probiotic mixture (available in the United States as Omni-Biotic® PandA).
Blood samples were collected from the infants to determine total IgE and a food panel and multi-allergen screening test were done. Stool samples were collected regularly from birth to two years. A total of 156 participants were included in the study and 102 completed the 3 months of follow-up.
Study results
Eczema was reported by the parents in the weekly diaries during the first 3 months of life:
In the placebo group 15 of 52 (29%) children reported eczema and six of 50 (12%) in the intervention group. At the age of 3 months, relative risk reduction was 58%, which decreased to 26% and 22% at 1 year and 2 years of age, respectively.


Between the age of 3–12 months and 12– 24 months, the incidence of eczema was similar in both groups. Cumulative incidence of parental reported eczema at 1 and 2 years was 23 of 50 (intervention) vs 30 of 48 (placebo), and 27 (intervention) vs 33 (placebo), respectively.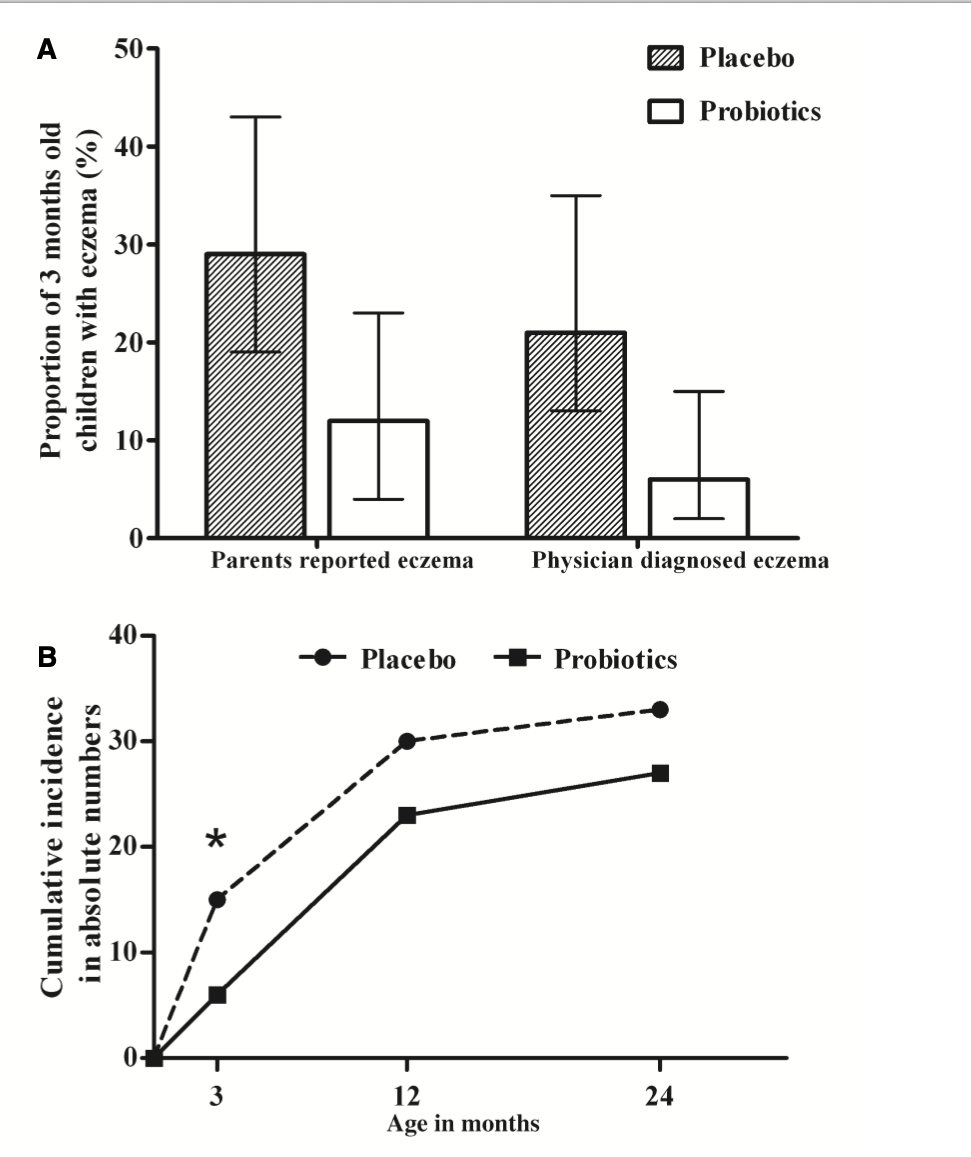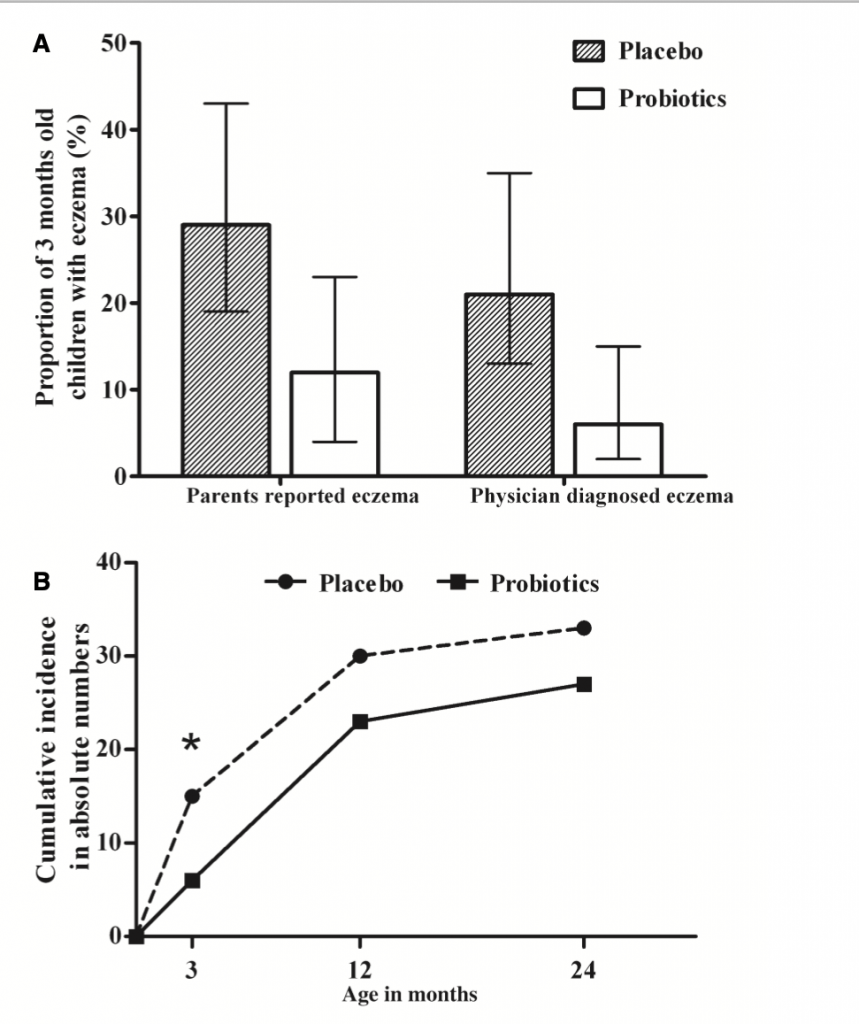 Of note, not all parents consulted their family physician to evaluate their child's eczema. Eczema was diagnosed by the consulted physician in 11 of 52 (21%) children in the placebo group and 3 of 50 (6%) children in the intervention group. During the 2-year follow-up period, 8 or 48 (17%) of the placebo group vs 10 of 50 (20%) of the intervention group suffered from eczema and were sensitized.
At 3 months, relative risk reduction among the intervention group was 58% which decreased to 26% at year one and 22% at year two.
Participants in the intervention group were significantly more frequently colonized with higher numbers of Lc. lactis compared with the placebo group during the first three months of life.
IL-5 was significantly reduced and production of IL-13 trended downward in the intervention group (in a subgroup analysis mean production of IL-5 and IL-13 was highest in the placebo group participants who developed eczema in the first three months of life).
No significant differences in median total IgE were observed between the groups.
Conclusion/ This particular combination of probiotic bacteria shows a pre- ventive effect on the incidence of eczema in high-risk children, which seems to be sustained during the first 2 years of life. In addition to previous studies, the preventive effect appears to be established within the first 3 months of life.
---
Source: Niers L, Martín R, Rijkers G, Sengers F, Timmerman H, van Uden N, Smidt H, Kimpen J, Hoekstra M. The effects of selected probiotic strains on the development of eczema (the PandA study). Allergy. 2009 Sep;64(9):1349-58. doi: 10.1111/j.1398-9995.2009.02021.x