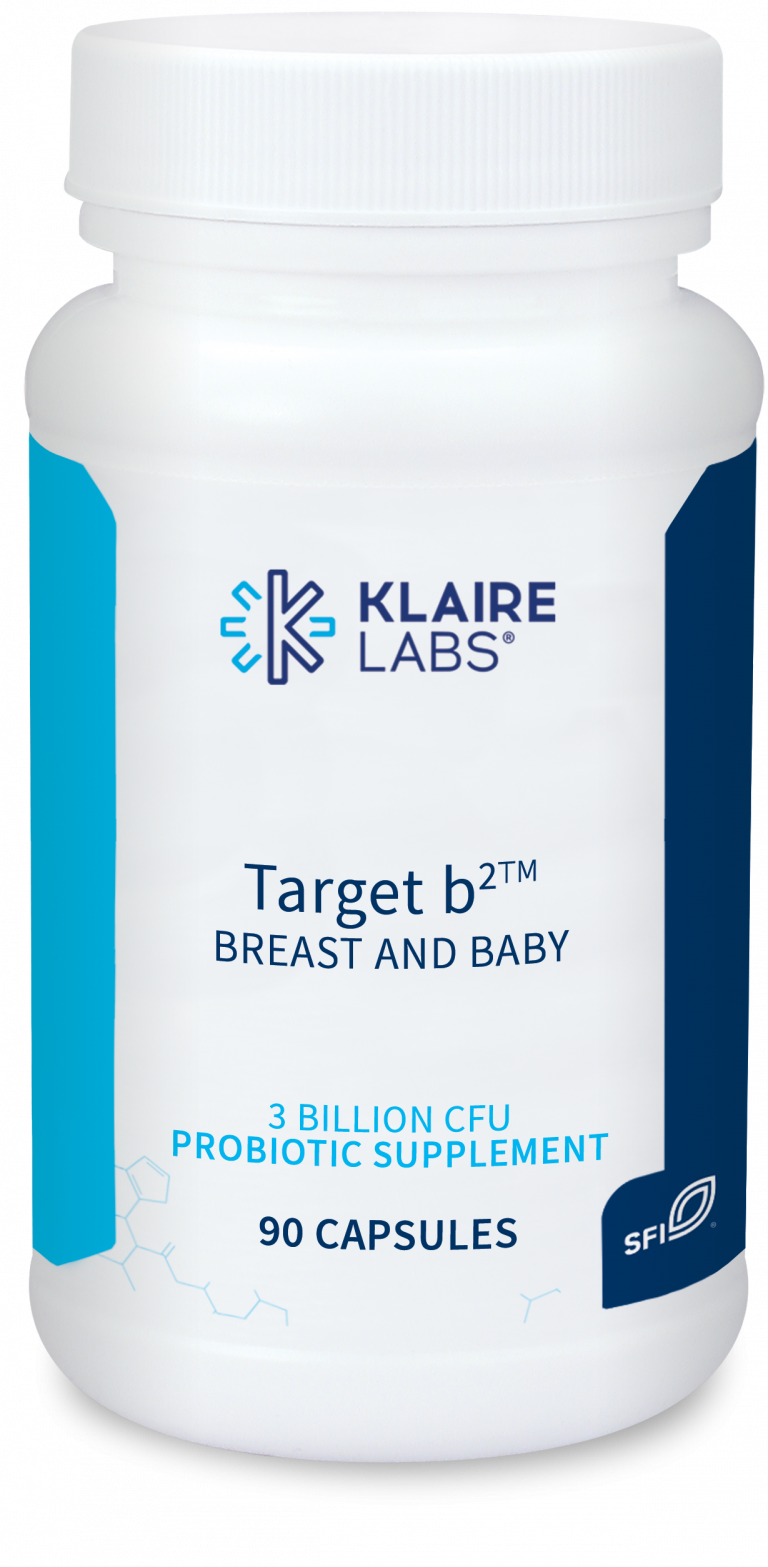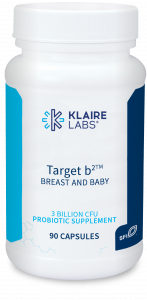 Klaire Labs (SFI USA) Announces a New Probiotic Targeted for Nursing Comfort and Infant Immune Health Support
Target b2™: BREAST and BABY
Reno, NV – Klaire Labs (SFI USA) today announced impending availability of a new probiotic, Target b2with Hereditum® Lc40 (Lactobacillus fermentumCECT5716), which is clinically demonstrated to support breast health, resolve discomfort associated with mammary dysbiosis, and positively influence infant immune health.†1, 2, 3
As many as 1/3 of lactating women experience significant discomfort that often results in premature cessation of breastfeeding. Conventional approaches are frequently ineffective and commonly associated with adverse effects.4
"Current medical approaches to address breast health concerns during lactation are less than optimal. Some medical interventions are not appropriate for breastfeeding mothers and may disrupt intestinal microbiota of both mother and child, interrupt maternal-infant bonding, and could even have a long-term impact on the health and maturation of the infant immune system. In addition, the effectiveness of conventional approaches also remains very much in question," said Jeremy Appleton, ND, Vice President of Science and Education at Klaire Labs. "The advent of safe, effective support for maternal breast and infant immune health should be a matter of intense interest among obstetricians, lactation consultants, nurses, midwives, and other allied health professionals who provide primary care for breastfeeding mothers, and Klaire Labs is very excited to provide them with this solution."
Target b2will be launched officially at the American College of Nurse-Midwives 63rdAnnual Meeting & Exhibition in Savannah, Georgia, 20-24 May. Klaire Labs will be sponsoring a product theatre discussing the mechanisms and clinical evidence behind this product.
About Klaire Labs
Klaire Labs has been formulating and manufacturing premium, hypoallergenic supplements sold through healthcare practitioners for nearly half a century. Our mission is to develop and manufacture the purest, most potent nutraceuticals possible, thereby empowering clinicians with consistently reliable performance.
Arroyo R, et al. Treatment of infectious mastitis during lactation: antibiotic versus oral administration of Lactobacilli isolated from breast milk. Clin Infect Dis. 2010;50(12):1551-1558.
Maldonado-Lobón JA, R, et al. Lactobacillus fermentum CECT 5716 Reduces Staphylococcus Load in the Breastmilk of Lactating Mothers Su­ffering Breast Pain: A Randomized Controlled Trial. Breastfeed Med. 2015;10(9):425-432.
Hurtado J et al. Lactobacillus fermentum CECT5716, a human probiotic strain, reduces the incidence and symptoms of mastitis in lactating women, Poster presented at Probiota 2016. Amsterdam.
Martín R et al. Human milk is a source of lactic acid bacteria for the infant gut. J Pediatr. 2003;143(6):754-758.