Som Sleep announces the launch of its first two sleep beverages, Som Sleep drink in Original and Som Sleep drink Zero Sugar. Som Sleep includes active ingredients naturally found in the body and a healthy diet, including green tea, magnesium, vitamin B6, melatonin, L-Theanine, and GABA.*
The product is designed to help patients with relaxation, nutritional support for healthy sleep patterns,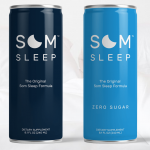 and maintaining a normal sleep cycle. It should be consumed 30 minutes before bed for better sleep. Som Sleep is low-calorie, gluten-free, vegan, non-GMO, and preservative free.
"We are incredibly proud to announce the launch of this amazing product, which we know will help the 1 in 3 adults in America who don't get enough sleep," said John Shegerian, the company's Co-founder and CEO. "We know there are a variety of products on the market aimed at improving sleep, but Som is one of the few drug-free, non-habit forming options that is safe for nightly use and truly works."
Sleep Som is NSF Certified for Sport, which means that MLB, NHL and CFL clubs are permitted to provide and recommend Som and other products Certified for Sport®. Certified for Sport® is also recommended by the NFL, PGA, LPGA, CCES, CPSDA and many other sports organizations. Learn more here.
Som is available in 4-pack, 12-pack and 24-pack on their website, www.getsom.com, and through Amazon.  The company plans to expand into additional distribution channels throughout 2018.
*These statements have not been evaluated by the FDA. This product is not intended to diagnose, treat, cure, or prevent any disease.