In recent weeks, glyphosate (the active ingredient in Roundup weedkiller) has been in the news, including a jury ruling that Monsanto's weedkiller was a substantial contributing factor in causing a groundskeeper DeWayne "Lee" Johnson's cancer. This was followed by a timely report by the Environmental Working Group on glyphosates residues in commonly eaten breakfast cereals, snacks and bars made from oats.
Apparently the residue is occurring because of a common practice to desiccate harvested oats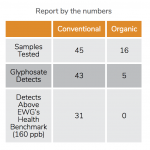 after harvest to dry out the grains for a higher market value. The EWG found glyphosates in but two of 45 samples of products made with conventionally grown oats. Almost three-fourths of those samples had glyphosate levels higher than what EWG scientists consider protective of children's health with an adequate margin of safety see the image). About one-third of 16 samples made with organically grown oats also had glyphosate, all at levels well below EWG's health benchmark.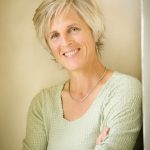 We thought with all the media attention, it was a good time to introduce you to Lyn Patrick, ND. She is currently president of the Naturopathic Academy of Environmental Medicine and faculty for the American College for Advancement in Medicine (ACAM) chelation training program and the Metabolic Medical Institute Fellowship. She speaks internationally on the subject of environmental medicine, endocrine disruption, metals toxicity, and nonalcoholic fatty liver disease.
Previously, Dr Patrick acted as contributing editor for Alternative Medicine Review, a peer-reviewed PubMed-indexed integrative medical journal. In this interview, from our partner journal. Integrative Medicine, A Clinicians Journal, Dr. Patrick discusses the burden of organophosphates and glyphosates on the human body, how to rid the body of these toxins and what are the effects of using glyphosates as a crop desiccant.
This article is gated for registered users in agreement with our partners at Integrative Medicine, A Clinicians Journal. This is an additional registration to our newsletter. By registering, we can offer subscription content free of charge. Thank you.