NEWS / AUSTIN, Texas (March 22, 2018) — The American Botanical Council (ABC) recently presented its first annual Fredi Kronenberg Award for Excellence in Research and Education in Botanicals for Women's Health to Tieraona Low Dog, MD, a highly respected expert in integrative medicine and women's health.
The inaugural award is named in honor of distinguished researcher, educator, and longtime ABC Board of Trustees member Fredi Kronenberg, PhD, who passed away in April 2017. Kronenberg dedicated her professional life to the study of medicinal plants and phytomedicines for women's health conditions, and was particularly interested in phytoestrogen-containing botanicals, such as black cohosh (Actaea racemosa), for the treatment of menopause symptoms.
Kronenberg was a champion of integrative medicine and co-founded a complementary and alternative medicine (CAM) center at Columbia University: the first CAM program at an Ivy League school. For 10 years, she also co-directed an onsite five-day continuing education course for physicians and other health care providers interested in botanical medicine.
"I am honored, and humbled, to receive the inaugural Fredi Kronenberg award from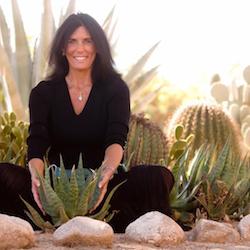 the American Botanical Council," said Low Dog. "I share [this award] with all of my colleagues who are dedicated to using the best of scientific research and traditional wisdom to improve the lives of women through the gifts of herbal medicine.
"Fredi was brilliant and unassuming: a scientist who loved the natural world," Low Dog continued. "We shared a passion for herbal medicine and women's health, exchanging notes, ideas, and papers. She was a fabulous photographer, and we spent many afternoons wandering through gardens and forests. We served together on editorial and advisory boards, and nurtured a friendship that spanned more than two decades."
Low Dog similarly has dedicated her career to integrative medicine research and education, and she is a passionate advocate of and expert in natural medicine for women's health. She is the founding director of Medicine Lodge Ranch, a natural medicine school for clinicians and health care providers located in the Santa Fe National Forest in New Mexico. She also directed the first Interprofessional Fellowship in Integrative Health and Medicine at the University of Arizona's Center for Integrative Medicine.
Previously, Low Dog served on the United States Pharmacopeia's Dietary Supplements and Botanicals Expert Information Panel, which she chaired for 10 years. She also has served on the advisory council for the National Institutes of Health's National Center for Complementary and Alternative Medicine (now known as the National Center for Complementary and Integrative Health) and was an appointed member of the White House Commission on Complementary and Alternative Medicine Policy. In addition, Low Dog is a founding member of the American Board of Integrative Medicine and the Academy of Women's Health, and is on the editorial board for the Journal of The North American Menopause Society. She is also a long-time member of the ABC Advisory Board.
"The ABC Board of Trustees believed that establishing an award in Fredi's name was an appropriate way to honor Fredi's extensive professional commitment to research in and integration of herbs and phytomedicines in women's health, both in selfcare and health care" said ABC Founder and Executive Director Mark Blumenthal. "It was clear to ABC that our friend and colleague Dr. Low Dog, due to her considerable educational efforts in the growing area of botanicals in women's health, should be the initial recipient of this award."
Mike Balick, PhD, a member of the ABC Board of Trustees and the vice president and director of the Institute of Economic Botany at the New York Botanical Garden, said: "There is no one more deserving of the first ABC Fredi Kronenberg Award than Tieraona Low Dog. She has been a leader in the field of women's health for years, and a mentor to so many in this field."
Throughout her career, Low Dog has received numerous honors and recognitions, including lifetime achievement awards from the Nutrition Business Journal (2017) and Scripps Health (2017), an Herbal Insight Award from the American Herbal Products Association (2015), and The People's Pharmacy Award for Excellence in Research and Communication for the Public Health from NPR's "The People's Pharmacy" radio show (2010). In addition, she has spoken at more than 550 conferences and authored or co-authored more than 45 peer-reviewed scientific journal articles, 22 chapters for medical textbooks, and multiple books, including Healthy At Home: Get Well and Stay Well Without Prescriptions (National Geographic Books, 2014), Integrative Women's Health (Oxford University Press, 2010), and Women's Health in Complementary and Integrative Medicine: A Clinical Guide (Elsevier, 2005).
"Dr. Low Dog much deserves this inaugural ABC Fredi Kronenberg Award," said Stefan Gafner, PhD, ABC's chief science officer. "She has made countless contributions to improve women's health through lifestyle interventions and herbal medicine in everyday practice as a physician, through publication of scientific texts, and presentations and discussions at symposia, trade events, and on TV shows. Without a doubt, she has been one of the most impactful people in the area of herbal supplements and women's health over the past two decades."
The award was presented at the 13th Annual ABC Botanical Celebration and Awards Ceremony on March 8, 2018, in Anaheim, California. The event, for ABC Sponsor Members, occurred during Natural Products Expo West.