Despite what you may wish, many of your patients are just not complying with your advice. Whether it is showing up for an appointment, using a prescribed drug or following advice after surgery, non-adherence is a big problem. Poor adherence leads to  33% to 69% of medication-related hospitalizations and accounts for at least $100 billion in annual health care costs. It is not that patient's don't want to take your advice, but typically it is a case of too much information (TMI), particularly difficult information, to retain in a short period of time.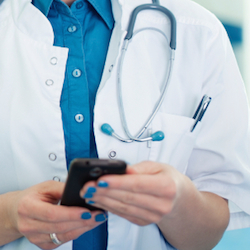 Enter the mobile app as a doctor's best friend. Early studies show a remarkable response from patients and physicians report it as a time saving tool. Text messaging is most commonly used medical practices for appointment reminders. Patients prefer text messages to remind them about appointments (88%) and practices that have used this method see a 10% decline in no-show rates.
But it's not just about appointment reminders, text messaging educates patients as they progress through treatment rather than overloading them with information on day one of the diagnosis.
"We are all a position of having to see more patients in less time, which means we typically tell the everything they need to know in one appointment," says Vishal Mehta, MD, an orthopoedic surgeon at Fox Valley Orthopeodic, and co-founder of HealthyTXT. Mehta describes a common scenario in his practice before using technology. Imagine a 14-year old patient needs surgery for a sport's injury. The patient and a parent meet with the doctor. "The parent's eyes glaze over as I try to talk as fast as I can in the allotted appointment time," says Mehta. "They leave the office numb, wide-eyed and with a stack of printed information about what to expect in the next six-months." Then, they try to share the information with the other parent. Confusion, TMI and panic set in. The next time Mehta sees the patient is in surgery.
Instead, this is how it looks for Mehta's patients today. The doctor-patient conversation is recorded in a HIPPA compliant fashion so it can be played back on their phone at any time for the patient, family and friends to listen. "You can record your favorite television shows on demand for play back, so why not the most important information of your life?," Mehta asks. Then automated and individual patient information is plugged into the system so the patient and/or care givers receives the correct information at the appropriate time for their pre- and post-surgery and recovery treatments.
Mehta emphasizes that this is not a two-way conversation, it's a push notification. It's not meant to disrupt the physician work flow but to capture and communicate the most important information a patient needs for care. His staff says they frequently get the same questions again and again: "How do I change the dressing? How do I put on the sling? Is this how I should feel a week after surgery?" By automating the information, the patient can access it when they need it.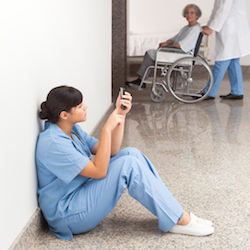 Mobile technology is advancing beyond texting for other types of care as well. "Depending on the type of nonadherence and patient characteristics, using a combination of tailored interventions such as patient education, patient self-monitoring of specialized care, and stimuli to take medications have the greatest potential for improving adherence," writes Lindsey Dayer, PharmD and assistant professor and study author, Smartphone medication adherence apps: Potential benefits to patients and providers (J Am Pharm Assoc, 2013).
Pain management is one of the best examples of how technology can improve not only compliance but outcomes. This month pain experts met at the American Pain Society annual conference and discussed the use of mobile medicine to help chronic pain patients cope with and manage their condition. Mobile apps can track patients from a distance and monitor pain, mood, physical activity, drug side effects, and treatment compliance.
According to Robert Jamison, PhD, professor of anesthesia and psychiatry at Harvard Medical School and pain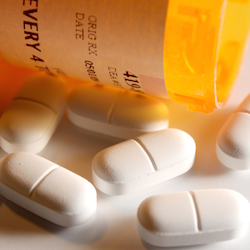 psychologist with Brigham and Women's Hospital, smartphone apps are helping the shrinking ranks of pain specialists treat and monitor rapidly increasing populations of chronic pain sufferers. "Today the ratio is one pain specialist for every 10,000 patients, but mobile technology allows for easy time-effective coverage of patients at a low cost, offering significant opportunities to improve access to health care, contain costs, and improve clinical outcomes," Jamison said.
At the American Pain Society annual meeting, Jamison presented results of his research on smartphone apps, developed at Brigham and Women's, for monitoring pain patients. He found that internet-based cognitive behavioral therapy could significantly decrease pain levels, improve function, and decrease costs compared to standard care. Jamison noted that the average response rate to text messages to pain patients is 70 to 90 percent and that high responders show improved pain levels. "The pain management smartphone app can deliver non-pharmacological, cognitive behavioral treatment as well as prompt patients to stay active, comply with therapy, and develop pain coping skills," He also sees that online networks, "decrease feelings of withdrawn behavior and instill a greater willingness to return for treatment."
Text messaging in health care started with routine appointment reminders. It quickly became evident that patients preferred to receive much of their health care updates and reminders via text. It has been clearly demonstrated in several studies that mobile calling or texting is the preferred route of communication and that access to the physician by means of mobile technology is highly desirable. Challenor et al found that mobilephone/text messaging was by far the most popular method by which patients wished to be contacted with 62% of patients preferring this method of communication. Furthermore, there is now convincing data that text messaging can influence health behavior and decisions. These facts, combined with the time saving potential for health care providers, make text messaging a promising new technology for the health care field that is likely to see increasing adoption in the coming years. The current use of text messaging with in health care can be broken down into 5 segments: 1) appointment and medication reminders, 2) preventative health, 3) population awareness ,4) education around diseases, conditions and procedures, and 5) pain management.
Click Here for Free White Paper