Can you really get everything you need in your diet? Perhaps even more important, are your patients getting everything they need in theirs? In this webinar and interview, Dr Tieraona Low Dog gives practitioners a preview of her upcoming book, Fortify Your Life with National Geographic (Feb. 2016). She makes a strong case for the fact that one of the biggest contributors to our modern health crisis is the food we put on our plates and the lack of essential nutrients it provides.
CLICK HERE FOR WEBINAR & INTERVIEW (leaving Today's Practitioner website).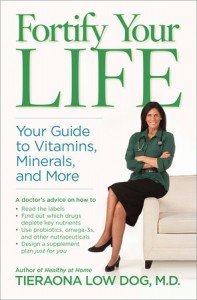 Dr. Low Dog is a founding member of the American Board of Physician Specialties, American Board of Integrative Medicine and the Academy of Women's Health. An internationally recognized expert in the fields of integrative medicine, dietary supplements and women's health, Dr. Low Dog was appointed by President Bill Clinton to the White House Commission on Complementary and Alternative Medicine Policy, served as the elected Chair of the US Pharmacopeia Dietary Supplements and Botanicals Expert Information Panel, was appointed to the Scientific Advisory Council for the National Center for Complementary and Alternative Medicine, has been an invited speaker to more than 550 scientific/medical conferences, published 40 peer-reviewed articles, written 20 chapters for medical textbooks, and has authored four books, including two National Geographic books, Healthy at Home and Life is Your Best Medicine. She has appeared on CNN, ABC's 20/20, is a frequent guest on the Dr. OZ show and NPR's The People's Pharmacy. Dr. Low Dog receives no compensation for her editorial contributions to INNATE.EDU or the content partnership with Today's Practitioner.