You are sitting in your virtual boardroom, clinical space, or manufacturing plant, contemplating the future.
In addition to us all doing our personal and professional best to lift our communities above crisis, we attend online sessions, keep up with a torrent of emails, and consider the troubling question about our economic future. Solely on that subject, one thing is clear: out of crises profound business opportunity is often born.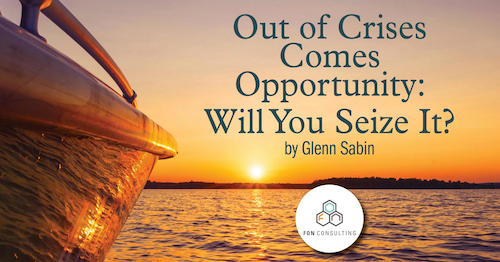 Only by taking a couple steps back—not to be confused with retreating—will the full picture emerge as to what is possible moving forward.
Only by pivoting from a defensive posture to an offensive stance is sustainable success possible.
Only then can you commence the charting of 'what comes next' for the health-directed organization to which you are fully committed.
There are no guarantees of what things will look like over the next three, six, or 18 months. Many small businesses and organizations will not survive, even with government assistance—especially those that were floundering before COVID-19 struck. As history shows us, legacy firms disappear, and new organizations emerge in the wake of crisis.
No one can accurately predict the human and fiscal impact of an unprepared government in the face of a silent killer. Apparently the U.S.—in the here and now—is not as adept, organized, or nimble enough to quickly mobilize as smaller countries have (read: South Korea).
The 'program' to address population health preparedness, in response to this viral crisis, has been at best at the level of an undeveloped nation. The depth and breadth of this health and fiscal crisis could have been greatly mitigated had delayed and poor policy decisions not failed us. Yes, it will be 'fixed'. We will catch up. We will eventually get out in front of this monster. After all, $2 trillion dollars, with more in reserve, can impact recovery.