The coincidental timing of holiday air travel and flu season poses an increased health risk for patients. Two new studies on elderberry or a combination of Echinacea purpurea and elderberry may reduce the duration and severity of symptoms from colds and flu. The first study examined the use of elderberry for travel related respiratory illness.  The second compared an elderberry-echinacea drink to the commonly prescribed flu drug oseltamivir.
Elderberry, Post-Travel Flu & Colds
It's well known that long-haul and intercontinental air travel can be physically and psychologically stressful. Upper respiratory infections following air travel are common. Associate Professor Evelin Tiralongo and Dr Shirley Wee from Griffith's Menzies Health Institute Queensland (MHIQ) show in a clinical trial that an elderberry supplement can provide some protection from cold and flu-like symptoms following long-haul flights. The results were presented at the 21st Annual International Integrative Medicine Conference in Melbourne.
The randomised, double-blind placebo controlled clinical trial was conducted with 312 economy class passengers travelling from Australia to an overseas destination. Cold episodes, cold duration and symptoms were recorded in a daily diary and participants also completed surveys before, during and after travel. "We found that most cold episodes occurred in the placebo group, but the difference between the placebo and active group was not significant.  However, the placebo group had a significantly higher number of cold episode days, and the symptom score in the placebo group over these days was also significantly higher," says Tiralongo.
The trial used capsules containing 300mg of a standardised, proprietary membrane-filtered elderberry extract which has shown to be effective in working against respiratory bacteria and influenza viruses. "Complementary medicines are used by two in three Australians, thus increasing the evidence base of these medicines should be at the forefront of our efforts. It's often forgotten that the evidence for various herbal medicines is extract specific," says Associate Professor Tiralongo.
Elderberry & Echinacea as Effective as Flu Drug without AE
The Griffith's Menzies Health Institute Queensland study falls on the heels of another study that compared an echinacea-elderberry formulation to the neuraminidase inhibitor oseltamivir, the gold standard treatment for influenza.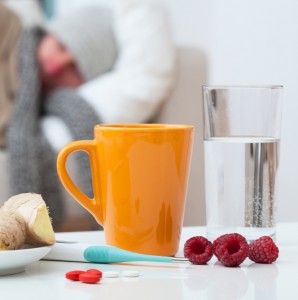 The study published in the Current Therapeutic Research recruited 473 patients with early influenza symptoms (≤48 hours) were recruited in primary care and randomized to either 5 days of oseltamivir followed by 5 days of placebo, or 10 days of an Echinacea purpurea-based formulation called Echinaforce Hotdrink (A. Vogel Bioforce AG, Roggwil, Switzerland). The proportion of recovered patients (influenza symptoms rated as absent or mild in the evening) was analyzed for noninferiority between treatment groups using a generalized Wilcoxon test with significance level α = 0.05 (2-sided) and using a CI approach in the per-protocol sample.
---
The study showed the echinacea-elderberry hot tincture was as effective as oseltamivir in the early treatment of clinically diagnosed and virologically confirmed influenza virus infections with a reduced risk of complications and adverse events.
The researchers noted the following observations:
Gastrointestinal complaints in 9 patients lead to cessation of therapy in the oseltamivir group, which in 5 cases prevented recovery from influenza illness. No such event occurred with Echinaforce Hotdrink, and safety was clearly in favor of the latter therapy.
For both treatment groups, the percentage of patients requiring antibiotics was low (2% and 1.8%) and not significantly different between groups.
Despite slightly higher baseline values of pyrexia, cough, headache, and myalgia in the Echinaforce Hotdrink group, equalization of symptoms between groups was achieved after 2 to 3 days. Fever resolved within 2 days of treatment and cardinal influenza symptoms were effectively treated with both therapies.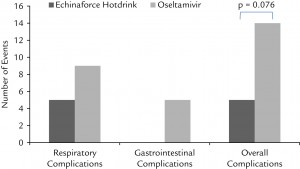 The researchers note that the neuraminidase inhibitors oseltamivir and zanamivir are proven to reduce the duration and intensity of illness with early intervention. However, side effects and drug resistant can pose a barrier to effectiveness.
"Success of therapy depends on the sensitivity of causative viruses to these drugs. During the 2008–2009 winter season most seasonal H1N1 influenza subtypes had developed reduced sensitivity to oseltamivir. In subsequent years this resistant virus type was again replaced by more sensitive strains like H1N1pdm2009 or H3N2. Neuraminidase inhibitors are associated with adverse effects, including nausea, vomiting, psychiatric effects, and renal events. Safety issues, the importance of early administration, availability, and the potential emergence of resistance compromise the broad applicability of neuraminidase inhibitors as recently highlighted by Jefferson et al."
Conclusion
The researchers concluded, "recovery from illness, possible advantages (lack of induction of drug resistance and complications), and the lower incidence of adverse events, treatment of influenza with Echinaforce Hot drink overall outperformed treatment with oseltamivir in the studied patient cohort. Further studies are warranted to show the extent to which our results are applicable to patients with concomitant diseases and at-risk populations, which were not studied here."
References
E Tiralongo, S Wee Elderberry Benefits Air Travelers, Griffith's Menzies Health Institute Queensland (MHIQ), presented at Annual International Integrative Medicine Conference in Melbourne. https://app.secure.griffith.edu.au/news/2015/07/21/elderberry-benefits-air-travellers/
Cohen, S.A. & Gössling, S. A darker side of hypermobility. Environment and Planning A, 2015 (in press)
K Raus et al. Effect of an Echinacea-Based Hot Drink Versus Oseltamivir in Influenza Treatment: A Randomized, Double-Blind, Double-Dummy, Multicenter, Noninferiority Clinical Trial. Current Ther. Research. December 2015 77, Pages 66–72. http://dx.doi.org/10.1016/j.curtheres.2015.04.001