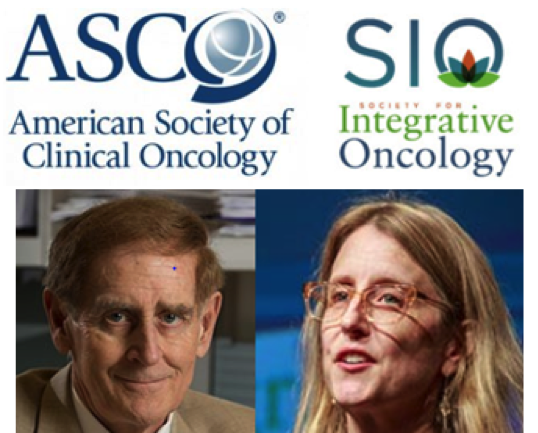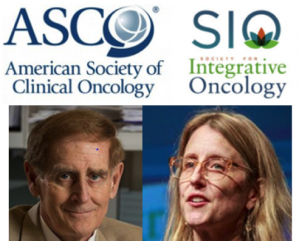 The movement of medicine toward an integrative model took an important step in early June. The American Society of Clinical Oncology (ASCO) endorsed a clinical practice guideline for integrative therapies during and after breast cancer treatment.
The endorsement was published on June 11, 2018 in ASCO's Journal of Clinical Oncology as "Integrative Therapies During and After Breast Cancer Treatment: ASCO Endorsement of the SIO Clinical Practice Guideline." That guideline, with a few added discussion points, has beenpublished in 2017 by the Society for Integrative Oncology (SIO). According to one major cancer center, ASCO's move "sent a clear signal to breast cancer patients and their care teams: It's OK to integrate."
The endorsement from oncology's top organization resulted from SIO advocacy for the science of integrative practices for women with breast cancer. SIO's success parallels an earlier SIO effort on lung cancer that led to a 2013 publication in Chest, the official journal of the American College of Chest Physicians. That guidelines has twice been updated.
A parallel example of science advocacy is the integrative pain outcome provoked by the Academic Consortium for Integrative Medicine and Health ("the Consortium"). Starting in 2013, the Consortium approached the Joint Commission with additional evidence for acupuncture and other integrative practices in pain treatment. Like the ASCO decision, the Clarification of the Pain Management Standard cast powerful light on multiple non-pharmacologic, integrative methods.
In each case, the endorsement resulted scientists of integrative health practices urging greater respect for emerging bodies of scientific literature in clinical directives. These scientific activists laboriously reviewed controlled trials and systematic reviews. They basically released integrative evidence from the shadows of habitual, clinical neglect. The SIO and Consortium leaders took a step toward insuring that their emerging integrative science did not echo about in an uncharted wilderness but would indeed make a sound.
The work of each echoed the campaign of the March for Science on Earth Day 2017 that was inspired by the political neglect by the Trump administration and others of climate science.
There is an important distinction here in types of advocacy. Many researchers don't see themselves as advocates. Yet the work of the SIO and Consortium is not advocacy for the integrative health model, per se.  Rather, it promoted respect for science, and thus for the optimal science-informed medicine. Yet, no question, these successes create useful leverage for those promoting integrative care in clinical, policy, regulatory, and legislative arenas.
A past president of SIO and co-chair of the SIO guideline task force, naturopathic physician Heather Greenlee, ND, PhD, called the ASCO endorsement a "very important step for the field of integrative oncology."
ASCO's endorsement process was co-led by Gary Lyman, MD and integrative oncologist Lorenzo Cohen, MD. Greenlee, the second author on the paper, explains that the review methods required "a very high bar" for evidence: "We followed a very rigorous process with both the SIO and ASCO to evaluate these therapies. There were many different disciplinary eyes vetting them."
Lyman and Greenlee are presently colleagues at Seattle's Fred Hutchinson Cancer Research Center. The Hutch's article on the endorsement bluntly describes how "skeptical" most oncologists are relative to integrative practices. Lyman's comments also fall short of proactively recommending integrative practices: "If patients are using these therapies in addition to effective scientifically proven cancer therapies and their doctors are aware of it, we're comfortable with it. The only time it becomes an issue is when these are not disclosed or are used instead of conventional effective therapies."
Greenlee acknowledges that the context of prevailing skepticism was a core motivation for SIO's guideline strategy: "Because our field is so controversial, it is important that our guidelines be squeaky clean. In SIO we take a conservative approach and base our recommendations on randomized controlled trials to make sure they are accurate."
ASCO's integrative recommendations were summarized for The Journal of Clinical Pathways  as:
music therapy, meditation, stress management, and yoga for anxiety/stress reduction;
meditation, relaxation, yoga, massage, and music therapy for depression/mood disorders;
meditation and yoga to improve quality of life; and
acupressure and acupuncture for reducing chemotherapy-induced nausea and vomiting.
The actual guideline includes other recommendation, some of which are also summarized in the Fred Hutchinson offers Fred Hutchinson Center article.
The origins of SIO's breakthrough go back 15 years to the founding of SIO as an interprofessional organization. Scientific conferences, multiple collaborations with the National Cancer Institute, publication of the lung cancer and then breast cancer guidelines each added gravitas. The next step was to formally bridge with the the old-line oncology organizations. The reason is ASCO's global reach. Explained Greenlee: "We think it is important to get really solid evidence-based guidelines to both patients and clinicians." She shares that SIO has a clinical guidelines committee that is presently evaluating what its next guideline effort might be.
This SIO-ASCO work product, like the Consortium-Joint Commission pain outcome, are causes for celebration for patient care options, for interprofessionalism, and for the integrative model. They also beg an additional question. Are guidelines for another condition, beyond cancer and pain, awaiting a targeted, persistent march for science to advance respect for the evidence supporting another integrative practice?
---
John Weeks is a writer, speaker, chronicler and organizer whose work in the movement for integrative health and medicine began in 1983. He is publisher-editor of The Integrator Blog News & Reports, which since 1995 – in various prior forms – has created primary connective terrain for the diverse stakeholders and professions in the field. He is a new contributor to Today's Practitioner, contributes regular column for Integrative Medicine: A Clinician's Journal, JACM – Paradigm, Practice and Policy Advancing Integrative Health, the Academy of Integrative Health and Medicine, and has written for Integrative Practitioner, the Huffington Post, The Altarum Institute, Health Forum Journal, Medical Economics, and elsewhere.
In May 2016,  he accepted an invitation to serve as the editor-in-chief of the Journal of Alternative and Complementary Medicine. Since mid-2015, John has re-focused his work on presenting, teaching and mentoring. He has keynoted, led plenary sessions, breakouts and offered guest lectures for dozens of organizations. These range from the Association of American Medical Colleges and Harvard University to Bastyr University and American College of Traditional Chinese Medicine; the UCLA School of Medicine to the Institute for Health and Productivity Management and Palmer College of Chiropractic; from the International Congress for Research on Integrative Medicine and Health to the American Hospital Association and the Midwives Alliance of North America. He has consulted with insurers, employers, professional organizations, universities, and government agencies at all levels.
As an organizer, Weeks convened the Integrative Medicine Industry Leadership Summits (2000-2002), directed the National Education Dialogue to Advance Integrated Care (2004-2006), fund-raised the start-up and was on the founding steering committee of the Integrated Healthcare Policy Consortium (2002-). He co-founded the Academic Collaborative for Integrative Health, which he directed 2007-2015, and was on the founding board of the Academy of Integrative Health and Medicine.
In 2014, three consortia and others combined to grant him a
Lifetime Achievement Living Tribute Award
.
Four academic institutions have granted Weeks honorary doctorates for his work. Seattle-based, he considers himself a particularly lucky soul to have worked remotely while living with his spouse Jeana Kimball, ND, MPH, and their children in Costa Rica, Nicaragua and Puerto Rico for 6 of the last 15 years. For more with John Weeks, follow his Integrator Blog.