The anti-inflammatory effect of omega-3 fatty acids may lower the breast cancer risk of obese, post-menopausal women. A study published in Cancer Prevention Research suggests that omega-3 fatty acids have a specific protective effect for obese, post menopausal women with dense breast tissue. Andrea Manni, professor and division chief of endocrinology, diabetes and metabolism, Penn State College of Medicine said this is likely because of the anti-inflammatory role of Omega-3 fatty acids.
The researchers tested the protective effect of n-3FA against breast cancer, with a two-year, open label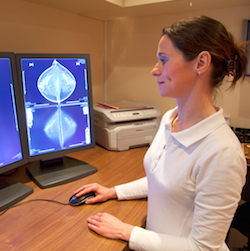 randomized clinical trial of 266 healthy postmenopausal women (50% normal weight, 30% overweight, 20% obese) with high breast density (BD) (≥25%) detected on their routine screening mammograms. Higher breast density is a well-known risk factor for cancer risk, as is obesity. "The higher the breast density, the more likely the woman will develop breast cancer," Manni said in the press statement.
The test subjects were given one of the following: 1) No treatment, Control; 2) Raloxifene 60 mg; 3) Raloxifene 30 mg; 4) n-3FA Lovaza 4 gm and 5) Lovaza 4 gm plus Raloxifene 30 mg. "While none of the interventions affected breast density in the intention to treat analysis, increase in plasma DHA was associated with a decrease in absolute breast density but only in participants with BMI >29.
Of note is that though Lovaza is composed of DHA (375 mg) and EPA (465 mg), only DHA blood levels were associated with breast density reduction (see Table 1). In a future trial, the researchers from Penn State, Emory University and Colorado State University plan to test the effect of DHA alone in obese subjects, potentially in combination with weight loss.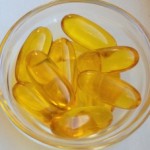 "The finding supports the idea that omega-3s, and specifically DHA, are preferentially protective in obese postmenopausal women," Manni said. "This represents an example of a personalized approach to breast cancer prevention." Manni also suggested that Omega-3 fatty acids may also play a role in lowering the risk of other cancers for obese patients, which are on the rise.
The study made another discovery worth considering. A daily dose of 4 mg of Lovaza, the omega-3 drug  for the treatment of severe high triglycerides in combination with half the recommended dose of Raloxifene at 30 milligrams, was superior to the individual treatments in reducing triglycerides and LDL, and increasing HDL cholesterol.
Source: Influence of obesity on breast density reduction by omega-3 fatty acids: Evidence from a randomized clinical trial. Cancer Prev Res December 29 2015  doi: 10.1158/1940-6207.CAPR-15-0235