In this video, JJ Virgin introduces a new way to rate sugar based on its impact on the body, expanding on her concept that the body isn't a bank account, it's a chemistry lab, and food sends powerful chemical messages.
Sugar is finally getting the attention it deserves. Following in the footsteps of the American Heart Association, the World Health Organization (WHO) recently released new guidelines about sugar.
This video is an excellent staff and patient education tool to answer their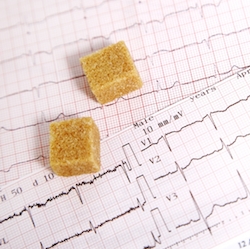 questions about sugar. For instance, recent studies have not been kind to sugar or artificial sweeteners. One found both sugar-sweetened beverages and artificially sweetened beverages increased risk of type-2 diabetes. Several New York Times bestsellers, including Fat Chance by Dr. Robert Lustig and Salt Sugar Fat by Michael Moss, also tackle the sugar issue.  Unfortunately, this attention creates massive confusion among your patients, such as, "Isn't honey healthy, since it's natural?", "What about sucralose? After all, it is calorie free.", and "Juice is good for me, isn't it?" Virgin answers these and many other questions in the video.
---
The speakers for the TED-style talk CASI symposium, hosted by Designs for Health, are gearing up for another great conference. Attendees will hear key "clinical and scientific insights" (CASI) in short, TED-style talks on Friday, March 17th and a deeper view the following day.
Share your own insights immediately following the Friday session at a reception, where you can mix and mingle with presenters and attendees alike.
On March 18, choose from two tracks that feature topics most important to
---
JJ Virgin's video is from Design's For Health, CASI 2015. To learn more about this years speakers check out this year's speakers and learn more about CASI 2017.
CASI 2017 speakers include Conference Chair: Dr David Brady / Keynote: Jeffrey Bland PhD / Speakers: Dr Susan Blum / Dr Nalini Chilkov / Oscar Coetzee / Dr Mark Menolascino / Deanna Minich PhD / Charles Poliquin / Dr Stephanie Seneff / Dr Filomena Trindal.
[hr]
JJ Virgin, CNS
Celebrity Nutrition & Fitness Expert JJ Virgin is author of three NY Times bestsellers: The Virgin Diet: Drop 7 Foods, Lose 7 Pounds, Just 7 Days; The Virgin Diet Cookbook: 150 Easy and Delicious Recipes to Lose Weight and Feel Better Fast; and The Sugar Impact Diet. JJ specializes in weight loss resistance related to food intolerance and has helped hundreds of thousands of people finally lose the weight and feel better fast. She speaks at major integrative medical and consumer conferences and has shared the stage with Jack Canfield, Suzanne Somers, John Gray, Dr. Daniel Amen, Lisa Nichols, Geena Davis and Brendon Burchard. She appears regularly in the media, including Public Television, Rachael Ray, the TODAY Show, Dr. Oz, Dr. Phil and Access Hollywood. JJ frequently blogs for the Huffington Post, Prevention, and other publications. JJ is the co-founder of the Mindshare Collaborative which hosts the annual Mindshare Summit where health experts meet to collaborate, innovate and elevate. She also leads a high-level mastermind group for health entrepreneurs from all over the world. You can find more information at: www.jjvirgin.com and www.mindsharesummit.com