In this commentary, published in Integrative Medicine, A Clinician's Journal, by Jeremy Appleton, ND, he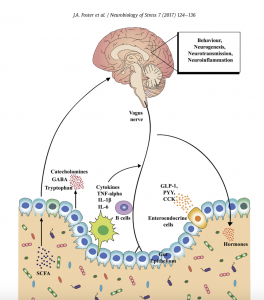 explains the gut-brain axis and its bidirectional communication network that links the enteric and central nervous systems. As he discusses, this network is not only anatomical, but it extends to include endocrine, humoral, metabolic, and immune routes of communication as well. The autonomic nervous system, hypothalamic-pituitary-adrenal (HPA) axis, and nerves within the gastrointestinal tract, all link the gut and the brain, allowing the brain to influence intestinal activities, including activity of functional immune effector cells; and the gut to influence mood, cognition, and metal health.
The Gut-Brain Axis: Influence of Microbiota on Mood and Mental Health
In this article you will learn:
Pathways of the Gut-Brain Axis
Neurologic Pathway
Endocrine Pathway
Humoral and Metabolic Pathway
Immune Pathway
Epithelial Barrier Structure and Function
Inflammation, Depression and the Microbiome
Summary of Human Clinical Trials
Jeremy Appleton, ND, is a writer and speaker on topics in natural medicine and dietary supplements. An alumnus and former faculty member of the National University of Naturopathic Medicine, Dr Appleton is a licensed naturopathic physician, author, educator, and vice president of science and education for SFI USA, which manufactures dietary supplements under the Klaire Labs brand.
To gain access to this article and the rest of our extensive database of full-text articles, please register below or log in here.