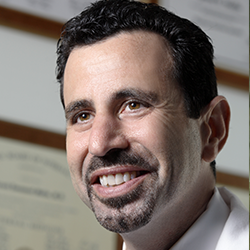 In this previous year Clinical and Scientific Insights CASI session, Dr. Mullin defines prebiotics and reviews their application in health and disease. He presents the role of diet in modulating the gut microbiome as well as, data illustrating the inverse relationship of dietary fiber intake to obesity risk and the associated shifts in the human microbiome.
The therapeutic manipulation of the gut microbiome and its ability to alter metabolism and produce weight loss is explained, along with the anti-obesity effects of prebiotics and probiotics in experimental models and in human clinical studies. Dr. Mullin succinctly reviews how diet, lifestyle factors and prebiotic and probiotic supplements influence the gut microbiota and weight outcomes.
The speakers for the TED-style talk CASI symposium, hosted by Designs for Health, are gearing up for another great conference. Attendees will hear key "clinical and scientific insights" (CASI) in short, TED-style talks on Friday, March 17th and a deeper view the following day.
Share your own insights immediately following the Friday session at a reception, where you can mix and mingle with presenters and attendees alike.
On March 18, choose from two tracks that feature topics most important to
CASI 2017 speakers include Conference Chair: Dr David Brady / Keynote: Jeffrey Bland PhD / Speakers: Dr Susan Blum / Dr Nalini Chilkov / Oscar Coetzee / Dr Mark Menolascino / Deanna Minich PhD / Charles Poliquin / Dr Stephanie Seneff / Dr Filomena Trindal.
Gerard E. Mullin, MD
Gerard E. Mullin MD is a board-certified internist, gastroenterologist and nutritionist.  He is an associate professor of medicine and serves as the director of Integrative GI Nutrition Services at The Johns Hopkins Hospital. Dr. Mullin has accrued over 20 years of clinical experience in the fields of integrative gastroenterology and nutrition and he earned a master's degree in nutrition while in practice in 1994.
Dr. Mullin is regarded as an authority in integrative gastroenterology and was commissioned by Andrew Weil MD to edit Integrative Gastroenterology for his integrative medicine library for Oxford University Press (http://global.oup.com/us/companion.websites/9780195371109/book/). Dr. Mullin teaches medical professionals at international conferences on the role of nutrition and lifestyle and the gut microbiome in digestive health and weight control.
He is the author of several professional desk reference and trade books (http://thefoodmd.com/books) including his latest The Gut Balance Revolution: Boost Your Metabolism, Restore Your Inner Ecology, and Lose the Weight for Good! (http://www.amazon.com/The-Gut-Balance-Revolution-Metabolism/dp/1623364019).
Mullin's academic biography is robust and has been included in Marquis Who's Who in the World and in Marquis Who's Who in America numerous times. His contributions and discoveries have led to multiple awards and his continued selection as one of America's Top Physicians since 2004.
Dr. Mullin was the youngest person to receive an honorary membership from the American Dietetic Association (now The Academy of Nutrition and Dietetics) in 2009. He also received the Grace A. Goldsmith award presented by the American College of Nutrition in November 2011. This special award acknowledges a scientist who is under the age of 50 years, for significant achievements in the field of nutrition.
He is a founding member of the American Board of Integrative Medicine (http://www.abpsus.org/integrative-medicine) and serves on a number of nutrition exam committees and boards (http://www.nutritioncare.org/NBNSC/About_NBNSC/Board_of_Directors/) and was recently selected to serve as vice-chair for the as medical practice section of the American Society for Parenteral and Enteral Nutrition (http://www.nutritioncare.org/About_ASPEN/Membership/Section_Chairs/). Dr. Mullin and also serves on the editorial board of numerous professional journals for gastroenterology, nutrition and integrative medicine.
Dr. Mullin has contributed to hundreds of consumer trade magazine articles who have featured his advice and professional journal papers dealing with digestive health, nutrition and wellness.  He has been interviewed on radio and television and has contributed to stories in the Associated Press, ABC News, Good Morning America, Chicago Tribune, Newsday, Martha Stewart Living, O, the Oprah Magazine, Rodale Press, Consumers Digest, Reader's Digest, Prevention, Natural Health magazine, More Magazine, Ladies Home Journal, Body & Soul, Cooking Light, Women's World, Men's Health, Good Housekeeping, Dr Oz The Good Life Magazine, Glamour and much more (http://thefoodmd.com/press-room).
Visit Dr. Mullin's website www.thefoodmd.com to learn more.