In this video from the 2018 Integrative Healthcare Symposium, Jeremy Appleton, ND, outlines the primary mechanisms by which the gut and brain interact. Appleton says this about the mood and the microbiome:
When we search for clues in the gut that might present a unifying theory for the pathogenesis of many varied conditions, we keep seeing evidence that points to disruption of epithelial barrier integrity as one of the major etiological factors. It is associated with several gastrointestinal diseases, including infection by pathogens, obesity and diabetes, necrotizing enterocolitis, irritable bowel syndrome and inflammatory bowel disease.

We now know that intestinal barrier function is also linked to brain and neurologic function. Microbiota may interact with GBA through different mechanisms we saw on the last slide, the principal one likely being modulation of the intestinal barrier. Perturb that barrier and you can influence all the underlying compartments. In fact, the major cause of death in surgical ICUs is the failure of gut barrier function, leading to sepsis.

Probiotic species-specific central effects are associated with the restoration of tight-junction integrity and the protection of intestinal barrier
Watch this video to hear Appleton's insight into what we are learning about how the gut microbiome plays a decisive role in mood, and the beginnings of clinical evidence of efficacy for probiotics as a therapeutic modality for mental health. See below for the video and presentation slides.
Click on the Image to Download Jeremy Appleton's Presentation Mood and the Microbiome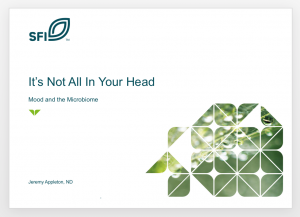 Jeremy Appleton, ND is a licensed naturopathic physician, educator, and dietary supplement industry executive. He is the author of numerous articles and books on topics in evidence-based natural medicine. Dr. Appleton has held faculty positions at National University of Natural Medicine in Portland, OR and Bastyr University in Washington. An industry veteran, Dr. Appleton is currently VP of Scientific and Regulatory Affairs for SFI-USA, which manufactures professional nutritional supplements under the Klaire Labs brand.