Veterans Day is coming up, which drew our attention to some very encouraging and heart-warming studies on integrative care for veterans, published in the Journal of Alternative and Complementary Medicine. We feature excerpts of two studies followed by full-text links to each of the 15 studies at the end of this post.
---
Feature 1 / Dog Training and Ownership Improve Veterans PTSD Symptoms and Self Compassion Scores
This first study is a longitudinal study showing that dog training and ownership significantly reduces post traumatic symptoms and improves self-compassion in veterans. Nearly 50% of veterans with post-traumatic stress disorder (PTSD) do not get treatment through the Veterans Administration (VA), which means that effective complementary and alternative strategies are highly needed. Animal assisted interventions (AAI) are a promising nonclinical strategy for veterans.
AAIs are typically used as a complement to traditional medical, pharmacologic, and psychotherapeutic interventions, although some have suggested that AAIs may be considered in place of other treatments because there are fewer negative side effects and AAIs may be more cost effective."
Researchers theorize that the benefits of human–animal interaction are related to three main mechanisms as follows:
the reduction of anxiety and arousal,
the facilitation of human to human social interaction,
and by directly meeting people's fundamental social need for attachment.
This study included veterans enrolled in the Dogs2Vets program at Clear Path for Veterans, a nonclinical, open recreation facility whose mission is to support veterans and their families in the reintegration process after military service.
While other organizations provide trained service dogs to veterans,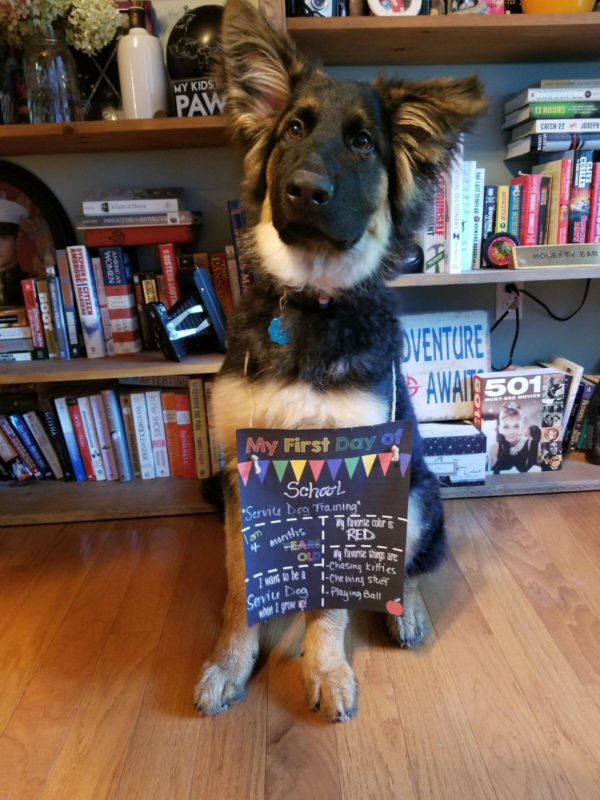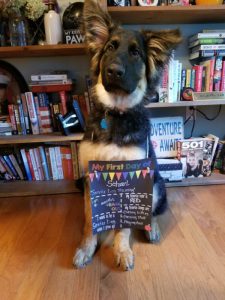 Dogs2Vets integrates the veteran and dog into an owner-trainer model of training. Each veteran selects a dog and the veteran/dog team train with their dog under the guidance of a professional trainer. Participants learn to care for their dogs, as well as dog behavioral management and training skills for 12–18 months.
For the study, post-traumatic stress symptoms were measured with the PTSD Checklist-Military Version (PCL-M), which includes 17 questions that rate the degree to which they have been experienced military related post-traumatic stress symptoms in the past month using a 5-point Likert scale from 1 (not at all) to 5 (extremely). Researchers also measured:
Perceived Stress Scale (PSS), a psychometrically validated measure of the degree to which situations in one's life are appraised as stressful;
Self-Compassion Scale Short Form (SCS-SF), a 12-item scale in which respondents' rate how they typically act toward themselves ranging from 1 = almost never to 5 = almost always.
The SCS-SF yields a total composite score and can be used to compute subscale scores for isolation, self-judgment, over-identification, self-kindness, common humanity, and mindfulness.
Qualitative feedback was also collected from participants at a 12-month follow-up through written responses to an open-ended question placed at the end of the survey e-mailed directly to participants. The question asked participants to write a response in a text box to the question "How did the Dogs2Vets program benefit you?"
All of the data resulted in improvements in all of the scores for PCL-M; self-compassion, self-judgement and self-kindness, isolation, common humanity and mindfulness. See Figure 1 and Figure 2
Figure 1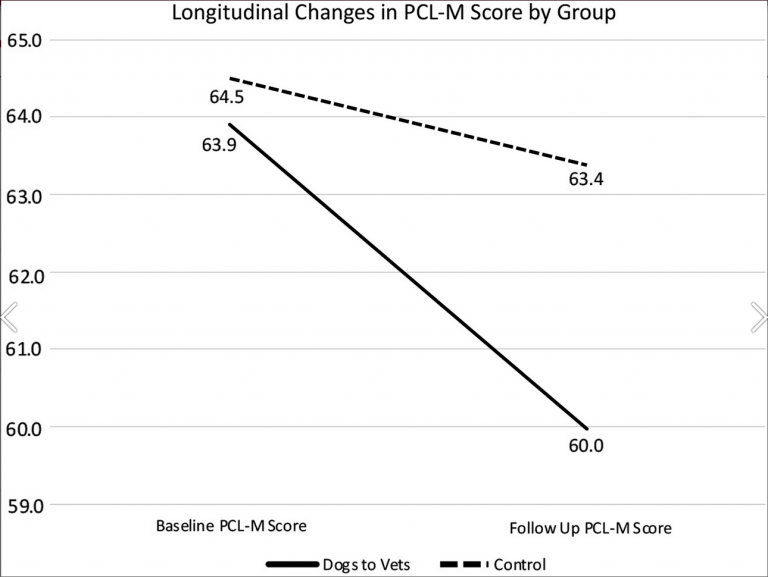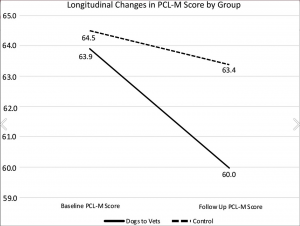 Figure 2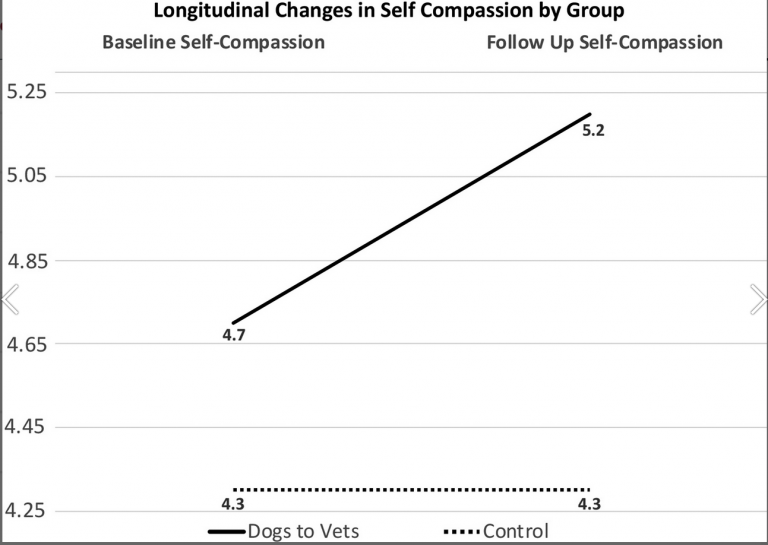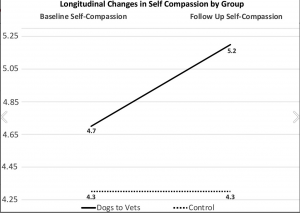 "The short story here is that dogs may be the best friend for a veteran with PTSD who engages in this training program," says JACM Editor-in-Chief John Weeks, johnweeks-integrator.com, Seattle, WA. "It is remarkable when research suggests that the best medicine for such a gnawing condition may be as close at hand and simple as this."
For perspective on the program from a veteran, watch the video below.
---
Feature 2 / The Current State of Integrative Medicine Within the U.S. Department of Veterans Affairs
An expert panel was convened by Medical Acupuncture to discuss integrative medicine within the U.S. Department of Veterans Affairs (VA). Panelists include Benjamin Kligler and Richard C. Niemtzow, David F. Drake, Stephen C. Ezeji-Okoye, Roberta A. Lee, Juli Olson and Kavitha P. Reddy
DR. BENJAMIN KLIGLER: We are here today to talk with some of the leaders in integrative medicine and acupuncture in the VA and hear from them on: What are the newest developments? What are the challenges we are facing right now in the VA? What are we learning as we bring integrative health to veterans in a more widespread and impactful way?
So, first off, what would you say is the most important innovation taking place in the VA system right now, in using integrative medicine?
DR. STEPHEN EZEJI-OKOYE: The start of the whole health pilots in each Veterans Integrated Service Network [VISN] is one of the biggest innovations that is really going to promote integrative medicine. The commitment by each VISN to launch a flagship site to promote integrative health really moves this from being something which is done primarily by people who already had an interest in integrative care to raising the awareness of it, both across entire facilities as well as across the VISN.
This has potential to promote integrative health as a vital part of the health and well-being of veterans.
DR. DAVID DRAKE: I think of it as more of an environmental energy. Since the creation of the Office of Patient Centered Care and Cultural Transformation, which then formed the Integrative Health Coordinating Center [IHCC], there's been an interest and desire to make whole health a priority.
Prior to the creation of the IHCC, it was a challenge practicing whole health, but at this point it is like a huge wave that is gaining energy. The integrative health medical environment in the country, if not the world, is becoming widespread and well accepted. I feel we are headed in that direction. This is a very exciting time for me personally and professionally.
DR. JULI OLSON: The grand idea of moving away from disease-based care is now moving into the execution phase, and that is really exciting. We have come to a point now where there are specific structures in place that allow it to happen.
There are so many innovations that are coming in order to execute that vision— for example, the introduction of a qualification standard for licensed acupuncturists, allowing the VA to hire licensed acupuncturists to provide acupuncture care.
DR. KLIGLER: Right, and in terms of the conversation about whole health and the new environment and atmosphere that Dave mentioned, part of that is committing to an interdisciplinary approach and tapping the different healing professions for everything they have to contribute. The VA has done that among the conventional healing professions—for example, with nursing and psychology—but is now branching out to include some of the integrative professions like acupuncture, more thoroughly, and it is a really important innovation.
DR. KAVITHA REDDY: One thing I will add is the vision of reaching our younger population to engage in the whole health system and integrative medicine now, when they have the biggest chance of delaying or even preventing disease progression downstream.
We have also seen a new executive order which allows for better transitioning from active duty—in utilizing the VA system for the first year that they are out—for full mental health services if they need them. The key to this executive order is that they get a chance to come through a whole health orientation to learn about what whole health means and the use of integrative medicine, and then to participate in initial whole health classes so they can identify their health and well-being goals. That is incredibly innovative for those folks transitioning out of service.
DR. KLIGLER: One of the major breakthroughs with this is that previously, separating service people had to go through a qualification process in order to enter the VA, and this order mandates an entire bypass of that, at least for the first year of their transition, so that there really are no obstacles to recently separating service people from accessing VA care or mental health, which is a new way to look at the VA. It will be interesting to see where that goes.
DR. ROBERTA A. LEE: I see whole health not so much as an innovation, but as a process of organization, and I think it is amazing that the VA has implemented a system that really brings to the forefront empowerment of the veterans regarding their own health. In their deployments, a lot of their orientation is to take orders. So, it is even more important to remind people that they do have this governance over their health.
One of the most powerful aspects of the whole health introduction is being able to get financial reimbursement and acknowledgement across the board for all providers in the whole health system, including the newly recognized acupuncturists. We have, in this system, the opportunity to look at the efficacy of having an integrated system, which has been a challenge in the civilian infrastructure because there are so many different participants that do not have the investment to relate to one another. So, I am very excited about this.
---
Feature 1 / Increases Self-Compassion Among Veterans: Results of a Longitudinal Control Study

Read Here
---
Special Issue: Use of Acupuncture in The Veterans Health Administration:

Roundtable Discussion
Feature 2/ The Current State of Integrative Medicine Within the U.S. Department of Veterans Affairs
Benjamin Kligler, Richard C. Niemtzow David F. Drake Stephen C. Ezeji-Okoye Roberta A. Lee Juli Olson, Kavitha P. Reddy  Read Here
Editorial
Medical Acupuncture: The Department of Veterans Affairs
Richard C. Niemtzow  Read Here
Guest Editorial
Acupuncture and Whole Health in the Veterans Administration
Kavitha P. Reddy, David Drake, and Benjamin Kligler  Read Here
News from the Field  Read Here
Interview
Systemic Change Toward Well-Being: A National Academy of Medicine Dialogue with the Veterans Administration's Leader for Cultural Transformation. An Interview with Tracy Gaudet, MD
John Weeks  Read Here
Mini-Reports
Mini-Reports from Veterans Administration Centers  Read Here
Perspective
Pragmatic Use of Acupuncture in a Neurology Practice: Experience in an Outpatient Veterans Administration Neurology Clinic
Michael Freedman and Patricia A. Bierwirth  Read Here
Brief Overviews
Acupuncture: Bridging the Gap Between the Military and Veterans' Health Systems
Cathaleen Madsen and Tracey Koehlmoos  Read Here
Licensed Acupuncturists Join the Veterans Health Administration
Juli L. Olson  Read Here
CME Article
Challenges and Strategies for Implementing Battlefield Acupuncture in the Veterans Administration: A Qualitative Study of Provider Perspectives
Stephanie L. Taylor, Karleen Giannitrapani, Princess E. Ackland, Jesse Holliday, Kavitha P. Reddy, David F. Drake, Daniel G. Federman, and Benjamin Kligler  Read Here
Original Articles
Auricular Acupuncture for Chronic Pain and Insomnia: A Randomized Clinical Trial
Betty K. Garner, Susan G. Hopkinson, Ann K. Ketz, Carol A. Landis, and Lori L. Trego  Read Here
Battlefield Acupuncture in the Veterans Health Administration: Effectiveness in Individual and Group Settings for Pain and Pain Comorbidities
Daniel Glenn Federman, Steven B. Zeliadt, Eva R. Thomas, Gennaro F. Carbone Jr., and Stephanie L. Taylor  Read Here
Case Reports
Can Battlefield Acupuncture Improve Colonoscopy Experience?
Mohamed M. Abdelfatah, Michelle C. Beacham, Michael Freedman, and Hans L. Tillmann  Read Here
The Use of Battlefield Acupuncture Prior to Botulinum Toxin A Administration: A 2-Patient Case Series
Xiangrong Shao, Michael Corcoran, and Michael O'Bryan  Read Here