In a surprise announcement, Food and Drug Commissioner Scott Gottlieb MD announced his planned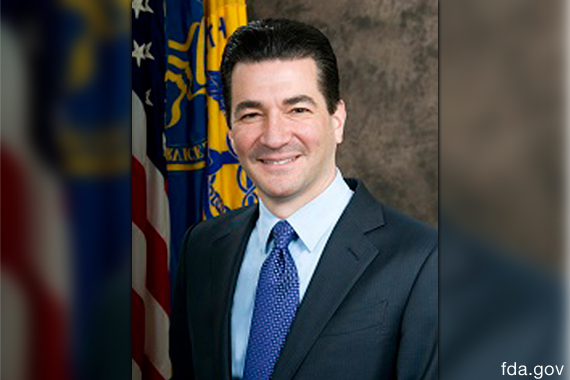 resignation this week, to go into effect in April. Gottlieb became known  for his tough stance on tobacco and e-cigarettes and for tackling previously untouched issues like drug prices, the opioid crisis and even recognizing the value of dietary supplements.
In February, Gottlieb took a rare stance on dietary supplements by recognizing the maturity of the industry and emphasizing the need to rid the industry of bad actors who spike supplements with drugs and unapproved ingredients. He called for the "the right balance between preserving consumers' access to lawful supplements, while still upholding our solemn obligation to protect the public from unsafe and unlawful products, and holding accountable those actors who are unable or unwilling to comply with the requirements of the law."
I've personally benefited from the use of dietary supplements and, as a physician, recognize the benefits of certain supplements as a part of a comprehensive care plan. It's clear to me that dietary supplements play an important role in our lives as we strive to stay healthy. It's also clear that the U.S. Food and Drug Administration plays an important role in helping consumers make use of safe, high-quality dietary supplements while also protecting Americans from the potential dangers of products that don't meet the agency's standards for marketing.~ FDA Commissioner Scott Gottlieb
Steven Mister, President and CEO of the Council for Responsible Nutrition (CRN) applauded Gottlieb's bold support of dietary supplements. "He clearly shares our respect, both as a doctor and as a consumer, for the power of dietary supplements to improve the lives and health of all Americans, three-quarters of whom already take our products each year," said Mister.
Gottlieb's unique perspective came from personal experience. As a physician and a cancer survivor of Hodgkin's lymphoma, he clearly understood how the FDA affects human lives. The National Coalition for Cancer Survivorship strongly endorsed his nomination in March, 2017 with this statement: "He understands the human toll cancer takes on individuals and families, during both treatment and long-term survivorship. He is open to a wide range of perspectives, including those of the patients whose lives depend on a strong FDA."
The response to the news was met with mixed results. Not surprisingly, tobacco stocks rose and biotech stocks fell. Overall, he was praised for being a leader for his innovation and fearless ability to advocate for public health.
He was able to do something very rare: He never got embroiled in a scandal, never got labeled with a toxic administration brush and had a great relationship with the President all at the same time," said one former White House official to a reporter at Politico.
HHS Secretary Alex Azar issued the following statement regarding the service of Food and Drug Commissioner Scott Gottlieb, who announced his planned resignation on Tuesday (effective in one month):
All of us at HHS are proud of the remarkable work Commissioner Gottlieb has done at the FDA. He has been an exemplary public health leader, aggressive advocate for American patients, and passionate promoter of innovation. I will personally miss working with Scott on the important goals we share, and I know that is true for so many other members of the HHS family.
Though his tenure was short, Gottlieb will be remembered for speeding up approvals of life-saving innovative treatments and affordable generic drugs, all the while tackling controversial and difficult policies to address opioid addiction, youth use of tobacco and e-cigarette use, dietary supplements and chronic disease. "The public health of our country is better off for the work Scott and the entire FDA team have done over the last two years," said Azar. There is no word on who will replace Gottlieb.