OP/ED by Kimberly Lord Stewart. I received a press release on a social media survey of 2,000 doctor's opinions on
Mehmet Oz, MD, from a social media polling company called SERMO. Even for social media, I was struck by the level hostility from Oz's highly educated peers. Quack and a new kind of Turkish Delight were among the derogatory Twitter comments on whether he should retain his position at Columbia University and/or even keep his medical license.
Granted social media is the dumping ground for snarky comments that few would ever say to anyone's face, but one comment was particularly telling:
"When I see Dr Oz discuss nutrition-related topics, I am saddened by his turn to the dark side."
I don't discount that Dr. Oz has made some mistakes, for which he was called on the U.S. Senate's blue carpet. But, is the clash between the way doctors practice medicine so polarizing that teaching good nutrition is now considered a black mark on one's credibility?
Given the polarity, it isn't surprising to hear of the glum comments on the future of personalized medicine in Lancet from Dr. Victor Dzau, president of the US Institute of Medicine (Personal View, Lancet, May 7 2015).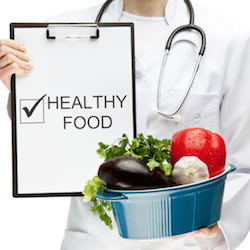 Dzau said though patients could dramatically improve health and productivity, there are few incentives to develop widespread practices that would reduce heart disease, diabetes, high blood pressure and stroke. He was commenting on data released by the University of Southern California Schaeffer Center for Health Policy and Economics, which found that personalized medical interventions to prevent heart disease, diabetes and cancer could generate $773 billion worth of heath gains in United States. This massive dollar figure wasn't only for targeted therapies, but also for  identifying those at highest risk of developing a disease and finding preventive measures.
The dollar figures refer to a health simulation model study—developed by Professor Dana Goldman, Director of the University of Southern California Schaeffer Center for Health Policy and Economics, Los Angeles, USA— which uses screenings and risk prediction technologies to identify individuals at highest risk of developing specific diseases. The model predicts the monetary value of health, ie years of healthy life, which are generated by PPM interventions. For instance, it scored reduction of the incidence of six diseases (cancer, diabetes, heart disease, high blood pressure, lung disease, and stroke) in the US population by 10% and 50% between 2012 and 2060 if PPM were implemented.
Now the really disturbing news. While preventive PPM innovations hold huge promise, Dr. Dzau says there are few incentives to develop them. "The current reimbursement environment in the US health care system is characterized by near-term budget pressures, and discourages the development of preventive, personalized, and precision medical interventions in favor of treatments that generate less value overall, but provide greater returns in the short term," says Dr Dzau.
A PPM intervention plan that reduces the incidence of these six diseases by 10% would generate $96 billion from diabetes and $70 billion from cancer in the form of longer, healthier lives over 50 years. A PPM innovation that reduces heart disease incidence by 50% would generate a staggering $607 billion in improved health over 50 years.
At Today's Practitioner, we tallied up some additional numbers in the slideshow below on how lifestyle changes and PPM could improve patients lives, reduce costs and improve productivity. All of these numbers are from studies collected at the Surgeon General's office.
The study by Professor Goldman suggests that reimbursement based on a test's value, rather than cost, could strengthen manufacturers' incentives to bring preventive PPM diagnostic tests to market more quickly. "In the USA, private insurers' incentives favor interventions with immediate benefits and short payback periods. But the real benefits of PPM innovations accumulate over a much longer time, as individuals enjoy living longer in good health. Our predictions show that developing a model that generates positive returns for private payers could benefit everyone," the study says.
One has to ask if the demand for greater returns is any less troublesome than Dr. Oz parsing out medical and nutrition advice on his show? For once, Americans are actually taking an interest in their health. In light of the harsh criticism following the television doctor, it seems there is much more work to be done on how prevention is perceived and practiced. Then and only then can American healthcare move toward a PPM model that puts prevention first and profits last.
Please leave your comments below or on our facebook page.
Materials provided by Lancet, for access to the abstract and full article, click here.