This study reviews the value of acupressure as a drug-free treatment option for a certain type of neck and shoulder pain. East Asian traditional medicine (EATM) describes a particular type of neck and shoulder pain, called nakchim, which occurs from the wrong sleeping posture, neck muscle abnormality and wind-cold assailing. And though there is no standard diagnostic criterion for nakchim, anyone who has experienced this condition and would agree on the definition from a double-blind, randomized controlled trial (RCT) as: "the pain and restricted motion range of neck occurred within 2 weeks; either unilateral or bilateral side can be affected; there should be no history of neck trauma."
Although nakchim has not been defined in modern medicine, with reference to the features of the previously described nakchim, the pathological condition can be defined as tissue damage and/or inflammation that are limited to the muscles, ligaments, or peripheral nerves of neck and shoulders without a history of trauma.
Researchers note that acupressure presents a valuable treatment option for nakchim as it can be administered by a variety of types of care givers and even self administered by the patient with adequate training.
Acupressure Study Methods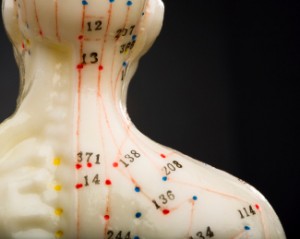 This review study (released early prior to Nov. 2018 Integrative Medicine Research) encompassed 15 studies and 1,037 patients, which included one study of distal and proximal acupressure, seven studies using proximal acupressure, and another seven using solely distal acupressure. The following is an excerpt of the treatment protocols and the findings (download the entire study at the end of this post for all the treatment data):
Seventeen types of 30 proximal acupuncture points were used as basic points.
Among them GB20 was used 4 times, GB21 3 times, and SI15, ST12, BL11, TE16, LI17, SI11, BL10 and GV16 twice, respectively. SI14, GV14, LI18, GB12, SI16, BL12, and GB6 were used once each.
Nine types of 14 distal acupuncture points were used as basic acupuncture points.
Among them, GB39 was most frequently used 4 times, and BL57 and TE3 were used twice, respectively. BL60, EX-UE8, LI5, TE10, LI4, and SI3 were used once each.
As a whole, acupuncture points on gallbladder meridian were the most commonly used 13 times, followed by acupuncture points on bladder meridian 8 times and by acupuncture points on small intestine meridian 7 times.
Three studies used A-Shi points. The number of acupuncture points used was counted 15-21 except for A-Shi points.
In seven studies performing proximal acupressure , an average of 22-28 2.57 acupuncture points were used, while in seven studies performing distal acupressure , an average of 1.14 acupuncture points were used.
Outcomes of Acupressure for Nakchim
The following are examples of various treatment procedures  (please see the study for complete overview of each protocol). Overall, using both proximal and distal acupressure, at times with massage, results showed marked improvement and high-patient satisfaction. Some patients required only one treatment, while more chronic pain called for multiple treatments.
1. A total of 712 patients were included in the seven studies of proximal acupressure . Of these, as 681 showed improvement of symptoms. In four studies involving 155 patients, ICR was reported, ranging from 50% to 89%. As the number of patients whose symptom was cured after one treatment session was 111, the overall ICR was 71.61%.
2. A total of 316 patients were included in the seven studies of distal acupressure . Of these, as 314 showed improvements of symptom, and the overall CER was 99.37%. In six studies involving 262 patients , ICR was reported, ranging from 96.30% to 100%. As the number of patients whose symptom was cured after one treatment session was 181, the overall ICR was 69.08%.
---
Download the full study here to see the full results, including distal, proximal acupressure, as well as simple acupressure and simultaneous Dong-qi with acupressure or acupuncture.
---
The underlying mechanisms of acupressure are still unclear. However, there are some hypotheses that can explain the effect of acupressure on nakchim.
1. Proximal acupressure may have relieved local muscle tensions by physically massaging the affected muscle;
2. Acupressure may have modulated sympathetic nervous system activity and hypothalamic-pituitary- adrenocortical axis to reduce the overproduction of cortisol, resulting in a systematic relaxation response which can relax stiff neck and shoulder muscles;
3. Acupressure, particularly proximal acupressure, may have induced analgesic effects by physically
stimulating peripheral nerves with pathological problems;
4. Acupressure may have induced analgesic effects through endogenous release of opioids;
5. A cognitive shift in perception of pain may be caused by Dong-qi therapy performed with acupressure;
6. Finally, acupressure may be involved in the recovery from disease by controlling the energy flow, so-called Qi, in the meridians.
---
---
Conclusion: In the studies included in this review, it was common that acupressure effectively improved the symptoms of nakchim, and the therapeutic effect was immediately apparent. Acupressure applied to the distal acupuncture point was also effective. Acupressure is not only a cost-effective, safe, and non-invasive treatment, but also a treatment that can be shared among caregivers, nurses, and doctors. Moreover, acupressure is a simple treatment that can be performed by patient himself/herself. In terms of public health, this potentially reduces medical costs, and patients can improve their confidence in own health.
Source: Chan-Young KwonBoram Lee Clinical Effects of Acupressure on Nakchim: A Systematic Review (2018), https://doi.org/10.1016/j.imr.2018.01.002