For women who are overweight or obese and are unable to exercise, new research appearing online in The FASEB Journal suggests combining acupuncture with an electrical current may help. In the report, an international team of researchers used electroacupuncture to assist with muscle contraction, which led to improved blood sugar regulation. This research also may benefit women with polycystic ovarian syndrome (PCOS), the most common hormonal disorder among women, which is associated with prediabetes and an increased risk of developing Type 2 diabetes.
"This study has the potential to gain better quality of life for patients with prediabetes and reduced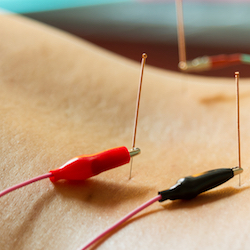 capacity to regulate blood sugar levels, especially for those who have difficulties performing voluntary exercise," said Elisabet Stener-Victorin, Ph.D., associate professor and study author at the Department of Physiology and Pharmacology and Reproductive Endocrinology and Metabolism, Karolinska Institute in Stockholm, Sweden.
To gain access to this article and the rest of our extensive database of full-text articles, please register below or log in here.